If you are planning to visit Tuscany on a golfing tour of the region, you won't be disappointed. Everyone should visit Tuscany at least once in their lives. This enchanting and stunning region in Italy is home to over half of the country's magnificent landscapes and artistic heritage. Thanks to the wonderful climate of Tuscany, golf lovers can rejoice as you can play the game all year round.
The best way to explore the golf courses in Tuscany is to rent a car. With so many car hire companies prevalent in the region of Tuscany, you will be spoilt for choosing which hire cars to pick. From cheap car rentals to luxury hire cars, there is something for everyone in Tuscany. You can do a quick car hire comparison online to check out the different prices and special offers of the car rental companies to select a hire car within your budget. You can also compare car hire prices once you arrive in Tuscany.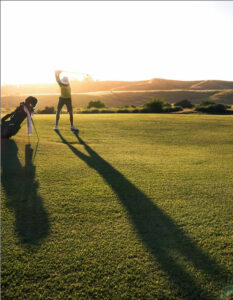 Here are the best golf courses to visit in Tuscany in your hire car.
1. Castiglion del Bosco
Sitting within the UNESCO World Heritage Site of Val d'Orcia in the famous Brunello di Montalcino winemaking destination of Tuscany, the Castiglion del Bosco golf course has been made in a stunning 800-year old estate. In a visual treat for visitors, the estate even now includes the castle ruins, a historic village at the centre of the estate known as the Borgo, and a medieval church. In 2003, this property was restored and opened up as a golf course.
The rolling hillsides of this golf course provide the perfect layout for this course. Apart from the par-three 14th, the fairways here are orientated on a north-south axis. The holes are fitted in beautifully around streams, ravines, and stands of tall trees. The 18th hole of 166 yards is the beauty, as you play slightly downhill to a small green encircled by sand. The downhill 13th hole is also memorable as it is the longest par five in Europe.
2. Argentario Golf Resort
This is a super exclusive five-star golf resort and spa. The golf course is located on the Monte Argentario promontory, which once used to be an island, but three causeways now connect it to the Tuscan mainland. This spectacular location and stunning views from the golf course make playing here a delightful experience.
The Argentario Golf Resort was designed by David Mezzacane and professional golfer Baldovino Dassu in 2006. This 6218-meter par 71 courses is home to the small and sloping greens, making it difficult to score here. You get to enjoy some breathtaking lagoon and sea views on your way around the course, as you reach the tough three closing holes.
3. Golf Club Castelfalfi
Sitting in the heart of Tuscany, the Golf Club Castelfalfi is sprawled out over 2700 acres. This restored ancient property offers some mesmerizing views of vineyards, olive groves, lakes, and dense forests. This is a 27-hole golf facility with a 6351 meter 18-hole Mountain course, and a separate 3171 meter 9-hole Lake course. The 9th hole here is known for its immense beauty. It is a downhill par three with a 100-foot drop into a green that is surrounded by water. Playing here is a truly wonderful experience for all your senses.