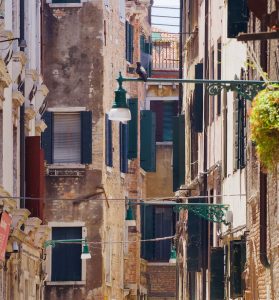 Comparison of rental car and car hire from several businesses in the town Mestre, Italy. Find the best prices for rental cars online. Comparing prices online can be very profitable, many smaller companies can only be booked on site.
Rental cars at Mestre's train stations (Venezia Mestre Railway Station, Venezia Porto Marghera Station, Venezia Santa Lucia Railway Station, Stazione Venezia Marittima and Mira Mirano), travel centre and airports like Venice Marco Polo Airport, Treviso-Sant'Angelo Airport and Vicenza Airport. We have an easy and safe booking system of rental cars online. Search and choose your destination, search for country, city etc. and choose from the list. A car hire service where every cost is included, no hidden fees and free cancellations/amendments up to 24 hours before you are supposed to pick up the car. When you are looking for rental cars we compare these companies Joyrent on Via Triestina 94, Hertz Venice on Via Cappuccina 169, Campello Rent Station on Viale Stazione 8c, Locauto on Viale Stazione 18 E, Blitz di Cosmo L on Via Monte Piana 3, Hertz Italiana Direzione on Via Orlanda 189, Budget on Via 3, Morini Rent on Via Miranese 154a, Eurorent on Via Orsato 16, Eurorent on Via Forte Marghera 199, Win Rent on Viale Stazione 18 E, Locauto on Piazzale Pietro Favretti, Major Amico Blu on Viale 3, Europcar on Via Ca Marcello 4a, Firefly on Ss14, Avis on Viale 3, Autopoint on Via Mutilati del Lavoro 1, Sixt on Viale Stazione 10.
Mestre is a town in the municipality Venice, Veneto region, Italy. 3th largest city/town when it comes to inhabitants in the region and the 22th largest town/district in Italy. Larger neighbouring cities/communities are Padova (c. 203700 pop), Vicenza (c. 107100 pop), Treviso (c. 77600 pop) and Venice (c. 51300 pop). The town has about 147 700 (2015) inhabitants. Located about 2 m above sea level. Read more about what the town has to offer when it comes to experiences and which companies are located in Venice and the country. Small villages, communities and suburbs nearby are Taglio, Cittadella, Vigonza, Porto Viro, Piove di Sacco, Zelo, Forte Vallon, Molino Ronchin, Carpenedo and Favaro Veneto. Nearby bus stops and bus stations are Celestia (line 41,42,51,52), S. Giorgio (line N,2), Bacini (line B,41,42,51,52), Arsenale (line R,1,41,42), Giardini Esposizioni (line N,1,2,8,41,42,51,52,61,62), S. Pietro di Castello (line 41,42,51,52) and S. Elena (line LN,1,41,42,51,52,61,62). Get some tips on local companies in Venice.
Tips and suggestions on places, events, activities, museums, attractions, experiences and tips on destinations you can visit during your stay in Mestre, can be found here. Fascinating parks and gardens in the central parts of the city are Area verde via Bellini and Giardino Papadopoli. Relaxing and beautiful green areas, parks and plantings worth seeing are Park Villa Querini, Park San Giuliano, Park Forte Tron, Villa Friedenberg and Area verde via Giussani. Dorsoduro are close by if you are interested in the exciting history and archaeology of the area. Older and fascinating buildings such as villas, manors and palaces close to the town centre are Palazzo Trevisan, Fondaco dei Tedeschi, Palazzo Fortuny, Palazzo Mocenigo, Palazzo Savorgnan, Ca' Pesaro, Palazzo Dario, Palazzo Malipiero, Villa Barchessa Valmarana, Ca' d'Oro and Palazzo Pisani Moretta. Forte Marghera, Fort of Sant' Andrea, Forte Sant'Andrea, Forte Gazzera, Forte Carpenedo, Forte Rocchetta, Forte Malamocco, Forte Morosini and Forte Alberoni are fascinating old forts, strongholds and fortresses and are located in the town.
A day at the museums and art galleries of the city? These are located in the central parts of the city at Peggy Guggenheim Collection, Palazzo Grassi, Scuola di San Rocco, Gallerie dell'Accademia, Museo dell'Arte Vetraria, Pardes, Ca' Rezzonico, Museum of Natural History, Galleria dell'Accademia, Planetart and Museo Ebraico. Watching sports or exercising? Athletic fields close to the city are Tennis Club Mestre, Tennis Club Lido, Tennis Club Comunale – Mira, Campo Sportivo and Tennis Club Villa Guidini. Stadium Francesco Baracca and Stadium Perluigi Penzo are located nearby if you want to watch sports or go to a concert. Centres and areas for recreation and activities are Centro Culturale P.M. Kolbe, which are located close to the town centre. Like golf? Want to try out the local golf courses? Golf courses that are close to the city are e.g. Circolo Golf Venezia 18 km, Golf Ca' della Nave 9 km, Golf Zerman 11 km and Golf Club Villa Condulmer 10 km. Vineyards and wine producers that are close to the the town are, for example, Orto di Venezia, if you are planning a wine tour and tasting in Mestre.
Want to visit a local casino? These are located in the city at Casinò di Venezia and Casinò Municipale. Beautiful churches or cathedrals not far away are Église de la Madonna dell'Orto, Duomo S. Maria Assunta, SS. Vito and Modesto, San Carlo Borromeo and Santa Lucia. Want to spend a day shopping? Centro Commerciale Valecenter, Centro Commerciale La Piazza and Nave de Vero are located within walking distance. Monumento Nazionale a Vittorio Emanuele II, Lion of Piraeus, Monument to Partigiana veneta and Colonne di San Marco e San Todaro are exciting statues and monuments of famous people and events. Notable squares or large open spaces that are close by, Campo Santa Margherita, Piazza Ferretto, Campo dei Frari, Piazza Caduti and Campo San Polo. Forte Tron, Castello delle (Castle) Polveri and Portrait of the Four Tetrarchs are historical ruins of buildings and objects worth seeing and studying.
Find the best car hire and cheapest car rental in airports nearby
Find the best car hire and cheapest car rental in airports nearby: Compare Rental Cars Verona Villafranca Airport, Compare Hire Cars Trieste-Friuli Venezia Giulia Airport and Hire Cars Vicenza Airport. Cheap SUV Rentals in Mestre.
Car rental companies in Mestre, Italy
We compare these companies in Mestre or in the region, National, Enterprise, Noleggiare, B-Rent, Sixt, Maggiore, Alamo, OS Car Rental, CarMotion, Centauro, Budget, Elba by Car, Hertz, Target Rent, InterRent, Key and Go, Flizzr, Goldcar, Dollar, Firefly, Viten Group, WinRent, Optimorent, Autoclick, King Rent, Europcar, Surprice, Rhodium, Italy Car Rent, Welcome Cars, Sicily By Car, Buchbinder, Payless, JoyRent, Locauto, Ace, Global, Avant Car, Green Motion, MoriniRent, Ecovia, Keddy By Europcar, Oscar, Smile Rent, Thrifty, Hertz Dream Collection, Autovia, Avis and Nomadcar. You can usually find the largest selection at airports such as Vicenza Tommaso Dal Molin Airport, Udine Campoformido Airport, Treviso Sant'Angelo Antonio Canova Airport and Venice-Tessera Marco Polo Airport. The large companies usually have offices adjacent to the airport.
Car Hire & Rent a Car Mestre Customer Feedback & Reviews