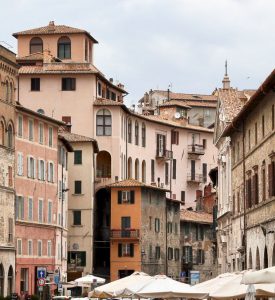 We have an easy and safe online booking of rental cars. Car hire where every cost is included, no hidden fees and free cancellations/amendments up to 24 hours before you are supposed to pick up the car. Search and choose destination, search for country, city etc. and choose from the list. Rental cars at Perugia's train stations (Perugia Railway Station, Ellera Corciano and Magione) travel centre and airports like Perugia Sant'Egidio Airport, Arezzo Airfield, Ampugnano Airport and Raffaello Sanzio Airport, PEG.
Find the best prices for rental cars online. Comparing prices online can be very profitable, many smaller companies can otherwise only be booked on site. Comparison of rental cars and car hires from several businesses in the city of Perugia, Italy. Maggiore Amico Blu Stazione Fontivegge on Stazione Ferroviaria Via Fontivegge, Hertz Piazzale Vittorio Veneto 4 on Piazza Vittorio Veneto 4, Maggiore Rent on Via Fontivegge, Budget on Stazione Fontivegge Piazza Vittorio Veneto 7, Avis on Piazza Vittorio Veneto 7, Sicily By Car Città on Via Settevalli 4, Europcar on Via Cortonese 59 are the companies we compare in Perugia/Italy.
Perugia is a city in the municipality Provincia di Perugia, Umbria region, Italy. It is the county seat in the region. 1th largest city/town when it comes to inhabitants in the region and the 28th largest town/district in Italy. Smaller communities, villages and suburbs nearby are Gubbio, Sansepolcro, Umbertide, Chiugiana-La Commenda, Gualdo Tadino, Marsciano, Matelica, Oliveto, Sodo degli Ebrei, Mercanzie, Ferro di Cavallo and Vagliano. Read more about what the city has to offer when it comes to experiences and which companies are located in Provincia di Perugia and the country. Other larger cities/communities nearby are Terni (c. 97100 pop), Arezzo (c. 76300 pop) and Foligno (c. 47700 pop). The town/city is located about 493 MASL. The city had c. 120 100 inhabitants at the end of 2015. Perugia Bus Station are bus stations and stops nearby. Get some tips on local companies in Provincia di Perugia.
Some suggestions and tips on places, activities, events, attractions, museums, experiences and destinations in the city that are worth a visit during your holiday in Perugia. See the town's team play or practice? Close to the city, the Arena Santa Giuliana is located. Want to watch a game or sports, maybe go to a concert? Close to the city are Stadium Renato Curi. Maybe see a local game of football? A day at the museums and art galleries of the city? These are located in the central parts of the city at Studio Moretti Caselli, Museum of vino, Museo D'Arte Fondazione Marini Clarelli Santi Perugia, Casa Museum of Palazzo Sorbello, Museo Storico Perugina, Capitularies Museum of Saint Lorenzo, Galleria Nazionale dell'Umbria – Palace of Priori, Soprintendenza Beni Architett and National Archaeological Museum of Perugia. Parco Acquatico Umbertide are water parks, amusement parks or theme parks nearby. If you are craving for activities and experiences with your children.
Watch horse racing and harness racing etc. at motor stadiums and race tracks such as Autodromo dell'Umbria. Wineries and wine producers that are close to Perugia are, for example, Lungarotti Giorgio, Cantina La Spina, Carlo Marco Carini, Cantina Cenci, Cantine di Bettona and Cantina Berioli, if you are planning a wine tour and tasting in Italy. Statues and monuments of interesting historical events and people like Monumento Ai Caduti di Tutte Le Guerre, Monumento XX Giugno, Fountain of Nettuno and Statua Papa Giulio III. Piazza Ferri, Piazza Giuseppe Mazzini, Piazza IV Novembre and Piazza Bakunin Michail are notable large open spaces and squares which are located in the central parts of town. Shopping at a mall? Maybe at Centro Commerciale Il Girasole, Quasar Village and Centro Commerciale Collestrada!
Near the city centre are possibilities for experiencing plays, music and shows at Theater Morlacchi and Theater Franco Bicini. Mandorlàs Arch and Arco dei Gigli are old arches and arcs that could be worth seeing during your visit. Are you going on a golf trip and looking for golf courses? The golf courses, Colleverde Country House 9 km and Golf Club Perugia 6 km, are located close to the city. Palace of Priori, Palace of Penna, Palazzo Florenzi, Palazzo Baldeschi al Corso, Palace of Capitano del Popolo, Palazzo Donini and Palazzo Gallenga are magnificent and interesting buildings, villas and palaces close to the centre of Perugia. Castello di (Castle) Coceto, Castello di (Castle) Magione – Sagrivit and Castello di (Castle) Rosciano are new and old castles that we recommend a visit to and are located in Perugia. Borgo di Mantignana are exciting old fortresses, strongholds and forts to visit.
Giardini pubblici, Giardini Carducci, Gardens of Frontone, Giardini della Canapina and Gardens of Santa Giuliana are located in the city if you want to experience parks and gardens recommended by us. Parcheggio are relaxing green areas, park and plantings if you want to relax and have a picnic on the grass. S. Francesco al Prato, Church of SS. Severo e Agata, Parrocchia Santa Croce, Basilica of San Domenico and Church of San Michele Arcangelo are notable churches or cathedrals close by. Are you interested in history and archaeology? Nearby are interesting places located at Porta San Giacomo, Saint Angelo Gate and Medieval aqueduct of Perugia.
Car hire in airports nearby
Car hire in airports nearby: Perugia Sant'Egidio Airport, Rimini-Miramare Airport and Ancona Falconara Airport.
Car rental companies in Perugia, Italy
Ace, Centauro, King Rent, B-Rent, Italy Car Rent, Dollar, Optimorent, Ecovia, Budget, Autovia, Goldcar, Locauto, Oscar, Maggiore, Autoclick, Noleggiare, OS Car Rental, Payless, Buchbinder, Smile Rent, Alamo, Sixt, Keddy By Europcar, Green Motion, Europcar, Firefly, Surprice, Thrifty, Viten Group, Hertz, InterRent, CarMotion, Global, Nomadcar, Avant Car, National, Elba by Car, MoriniRent, Flizzr, Target Rent, WinRent, JoyRent, Sicily By Car, Enterprise, Avis, Welcome Cars, Rhodium and Hertz Dream Collection are the companies we compare in the city/country. You can usually find the largest selection at airports such as Perugia Umbria San Francesco d'Assisi Adamo Giuglietti Airport, Ancona Falconara Raffaello Sanzio Airport, Arezzo Molin Bianco Airport and Siena Ampugnano Airport. The large companies usually have offices adjacent to the airport.
Car Hire & Rent a Car Perugia Customer Reviews & Feedback