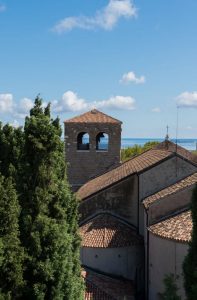 Compare rental cars and renting of a vehicle from several companies in the city, Trieste in Italy. We compare large companies as well as small and find the best price for all types of cars.
Rental cars at Trieste's train stations (Trieste Centrale railway station, Stazione Trieste Campomarzio, Servola, Stazione di San Sabba, Aquilinia, Villa Opicina, Prosecco and Miramare), travel centre and airports like Trieste – Friuli Venezia Giulia Airport and Udine-Campoformido Airport, TRS and ferry terminals and ports (Port of Trieste, Yacht Club Adriaco, Trieste Port). We have an easy and safe booking system of rental cars online. Search and choose your destination, search for country, city etc. and choose from the list. A car hire service where every cost is included, no hidden fees and free cancellations/amendments up to 24 hours before you are supposed to pick up the car. When you are looking for rental cars we compare these companies; Hertz Harbour New Ferry Terminal on Punto Franco Vecchio Molo Iv 1, Uffici Hertz on Corso Camillo Benso Conte di Cavour 3, Acirent on Punto Franco Vecchio, Avis on Nuova Staz Marittima Molo Iv, Top Rent on Strada del Friuli 16, Budget on Nuova Stazione Marittima Molo Iv Corso Camillo Benso Conte di Cavour, Maggiore on Piazza Della Libertà 8, Europcar Città on Androna Campo Marzio 3, La Maggiore on Via Pietraferrata 1, all with offices on site or in Friuli Venezia Giulia.
About the city Trieste (Triest, Trst), located in the Provincia di Trieste part, Friuli Venezia Giulia region, Italy. It is the county seat in the region. 1th largest town/city when it comes to inhabitants in the region and the 14th largest town/district in Italy. Gorizia (c. 34600 pop), Monfalcone (c. 26700 pop), Cervignano del Friuli (c. 12300 pop) and Ronchi dei Legionari (c. 11900 pop) are larger neighbouring communities and cities. Smaller communities, villages and suburbs nearby are Cervignano del Friuli, Ronchi dei Legionari, Muggia, Cividale del Friuli, Latisana, Sottomonte, Conconello, Banne, Cattinara and Villa Opicina. The city is located about 2 meters above sea level. Are you planning to stay for a long period and spend your holiday here? Then there are many things to do and experience. The town has about 187 100 (2015) inhabitants. We also give tips on which companies offer rental cars in Provincia di Trieste.
Suggestions on attractions, museums, activities, events, experiences, places and destinations that are worth a visit during your trip to the city Trieste. Are you looking for aquariums, tropical houses, safari parks, tropicariums, zoos, and terrariums nearby? Acquario Marino della Città di Trieste might be worth a visit. Watching sports or exercising? Athletic fields close to the city are Tennis Campi Rossi, Tennis Club Borgo Lauro and Campo Sportivo Borgo San Sergio. Close to the town centre, the Palatrieste, Stadium Comunale P. Zaccaria and Stadium Nereo Rocco's are located. See the different teams in town play or are you craving some football? Or want to see a concert? Palazzo Pitteri, Palace of Lloyd Triestino, Palace of Borsa Vecchia, Palazzo Gopcevich and Palazzo Carciotti are exciting, older, magnificent buildings such as mansions and palaces nearby. Close to Trieste there are castles worth seeing such as Castello di (Castle) Muggia, Castello di (Castle) San Giusto and Miramare Castle.
Look at old historical ruins like Villa Derin and Castelliere di Elleri. Older arcs, arcades and arches to visit and look at are Arco di Riccardo. Do you need a car for a golf trip? Golf courses close to the community are Golf Club Trieste 5 km. Notable churches or cathedrals are San Spiridione, Cathedral of San Giusto, San Nicolò dei Greci, Parish Church of Santa Maria Maggiore and Sant'Antonio Nuovo which are close by. Close to the town centre are Teatro Verdi if you are in the mood to listen and experience opera and music!
Enjoy a beautiful botanical garden? Giardino storico Basevi and Civico Orto Botanico are located within walking distance. Vedetta Alice, Vedetta di S. Lorenzo, Vedetta di Moccò and Vedetta d'Italia are observation points located in the city, from where you can get a complete overview of the city. Fascinating and fine plantings, green areas and parks that are located in the city are Giardino pubblico Muzio de Tommasini, Bosco Biasoletto, Park Orlandini, Villa Engelmann and Park Villa Giulia. Spend a day tasting wine! Nearby wine producers and vineyards are, Suc Erica, Giorgio Nicolini, Victor Tomsich, Sancin Devan and Kmetija, if you are planning a wine tour and tasting in Trieste. Museums and art galleries in Trieste that could be interesting are Museum of Comunità ebraica di Trieste, Fondazione Scaramangà, Museo Civico di Storia ed Arte e Orto Lapidario, Civico Museum of Storia Patria, Alinari Image Museum, Lapidario Tergestino, Civico Museo Teatrale Carlo Schmidl, Trieste Contemporanea and Museum of Commerce. Statues and monuments of interesting historical events and people like Fountain of Quattro Continenti, Rotonda Pancera, Fountain of Nettuno, Monument to Caduti della Guerra di Liberazione and Obelisco di Opicina. Notable squares or large open spaces that are close by, Piazza della Cattedrale, Piazza della Borsa, Piazza Galilei, Piazza Marconi and Piazza dell'Unità d'Italia.
Want to spend a day shopping? Montedoro Shopping Center are located within walking distance. Dolina dei Druidi and Roman Theater of Trieste are fascinating historical sites and attractions with archaeological value close to Trieste. Ancient relics, cultural heritage, antiquities and older buildings close to Trieste are located at Archaeological Park of Muggia Vecchia and Foro romano. Ippodromo di Montebello are located within a walking distance if you want to game on horses, in horse racing or harness racing or see motor sports. A day for relaxing and sunbathing on the beach at Bagni Comunali Lanterna. They are all close to the city.
Car hire in airports nearby
Car hire in airports nearby: Car Hire Trieste-Friuli Venezia Giulia Airport and Udine-Campoformido Airport.
Car rental companies in Trieste, Italy
To find the best price we compare following companies Ace Rental Cars, Centauro, King rent, B-Rent, Italy Car Rent, Dollar, Optimorent, Ecovia, Budget, Autovia, Goldcar, Locauto, Oscar Rent A Car, Maggiore, Autoclick, Noleggiare, OS Car Rental, Payless, Buchbinder, Smile Rent, Alamo, Sixt, Keddy By Europcar, Green Motion, Europcar, Firefly, Surprice, Thrifty, Viten Group, Hertz, InterRent, CarMotion, Global Rent a Car, Nomadcar, Avant Car, National, Elba by Car, MoriniRent, Flizzr, Target Rent, WinRent, JoyRent, Sicily By Car, Enterprise, Avis, Welcome Cars, Rhodium and Hertz Dream Collection in Trieste. You can usually find the largest selection at airports such as Trieste Ronchi dei Legionari Airport and Udine Campoformido Airport. The large companies usually have offices adjacent to the airport.
Car Hire & Rent a Car Trieste Customer Reviews & Feedback