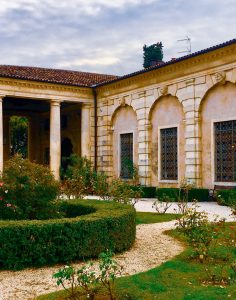 Comparison of rental car prices and car hire from several businesses in the town Vicenza in Italy. Find the best prices for rental cars. It always pays off to compare before you book, in some smaller communities local companies can have very competitive prices.
Car hire at Vicenza's airports like Vicenza Airport, Treviso-Sant'Angelo Airport and Verona Villafranca Airport, VIC, train stations (Vicenza Railway Station, Stazione di Dueville and Stazione FS Trenitalia di Levà-Villaverla) and travel centres etc. We can offer a car hire service where every cost is included. There are no hidden fees or free cancellations/amendments up to 24 hours before you are supposed to pick up the car. An easy, straight forward and safe search for car hire online. With our search engine, you only need to write the name of the city, place etc. and you will immediately get a list of choices. Locat Rent Per Il on Viale Mazzini 77, Maggiore Amico Blu Stazione on Viale 30, Budget on Viale Milano 88, Maggiore Rent Amico Blu Fs on Viale 30, Avis on Viale Milano 88, Europcar on Viale Milano 91, Budget Italia on Lato Ovest Staz Ffss Viale 30, Budget Italia on Via Della Tecnica 16, Hertz on Piazzale Bologna 23, Optimorent on Viale Europa, Maggiore Rent on Via Della Tecnica 16, Locat Rent on Viale Mazzini 77 are the companies we compare near Vicenza to find the best price.
Vicenza is a town in the municipality Provincia di Vicenza, Veneto region, Italy. It is the central city in the area. 4th largest city/town when it comes to inhabitants in the region and the 33th largest town/district in Italy. Read more about what the town has to offer when it comes to experiences and which companies are located in Italy and Provincia di Vicenza. Smaller villages, communities and suburbs nearby are Cittadella, Bovolone, Vigonza, Feltre, Piove di Sacco, Malo, Villa Guiccioli, Ca' Sartorelli, Ca' Reato, Gogna and Villa Guiotto. Verona (c. 219100 pop), Padova (c. 203700 pop), Mestre (c. 147700 pop) and Trento (c. 80400 pop) are other larger communities, cities nearby. The city is located about 39 meters above sea level. About 107 100 (2015) inhabitants live in the town. We also give tips on which companies offer rental cars in Provincia di Vicenza.
Suggestions on attractions, museums, activities, events, experiences, places and destinations that are worth a visit during your trip to the town Vicenza. Sportiva Circolo Tennis Vicenza are located nearby if you want to watch sports or see a game. Watch the local team play? Or see a concert? Watch football? Close to the town centre are the Stadium Romeo Menti. Wineries and wine producers that are close to Vicenza are, for example, Vitivinicola Muraro Severino di Muraro, Enomas, Ozzi Rino, Tenuta l'Armonia, Ca' Basso and Colli Vicentini, if you are planning a wine tour and tasting in Italy. Music, plays and shows in the town centre? We recommend Theater Olimpico and Ufficio Theater Astra. Located within walking distance.
In the city, there are interesting monuments and statues of famous people and events like Lodge of Capitano. Piazza Matteotti, Piazza del Duomo and Piazza dei Signori are notable squares or large open spaces close by in the central parts of town. Cavalloni – Thiene Palace, Barbaran da Porto Palace, Palazzo Valmarana Braga, Palazzo da Monte Migliorini and Trissino-Baston Palace are exciting, older, magnificent buildings such as mansions and palaces nearby. Castello della (Castle) Bellaguardia, Castello d'Arzignano, Castello di (Castle) Thiene and Castello della (Castle) Villa are new and old castles that we recommend a visit to and are located in Vicenza. Do you need a car for a golf trip? Golf courses close to the community are Golf Club Vicenza 5 km, Golf Club Frassanelle 21 km and Golf Club Colli Berici 10 km. Notable churches or cathedrals are Basilica Palladiana, Santa Corona and Parish Church of San Pietro a Vicenza which are close by.
Giardino Salvi and Garden of Vittoria are located in the city if you want to experience parks and gardens recommended by us. Panoramic Viewpoint of Piazzale della Basilica di Monte Berico are observation points located in the city, from where you can get a complete overview of the town. Park Querini, Campo Marzo and Park giochi di via Turra are relaxing green areas, park and plantings if you want to relax and have a picnic on the grass. Museums and art galleries in Vicenza that could be interesting are Palazzo Chiericati, Museum of Risorgimento, Museo Diocesano Vicenza, Archaeological area of e Strada romana della Cattedrale and Museo Naturalistico Archeologico. Centro Commerciale Palladio and Centro Commerciale Auchan Vicenza are malls in the city if you want to do some shopping.
Find the best car hire and cheapest car rental in airports nearby
Find the best car hire and cheapest car rental in airports nearby: Cheap Hire Cars Verona Villafranca Airport, Car Hire Vicenza Airport and Hire a Car Cheap Bolzano Dolomiti Airport.
Car rental companies in Vicenza, Italy
When you are looking for rental cars we compare these companies WinRent, Key and Go, Hertz Dream Collection, Flizzr, Ecovia, Sicily By Car, Target Rent, Nomadcar, Payless, Avant Car, Global, Dollar, Firefly, B-Rent, Goldcar, Rhodium, InterRent, Keddy By Europcar, Oscar, Alamo, MoriniRent, Thrifty, Maggiore, Surprice, Elba by Car, Budget, Centauro, CarMotion, Noleggiare, OS Car Rental, Enterprise, Europcar, Optimorent, JoyRent, Autovia, Viten Group, Hertz, Avis, Green Motion, Italy Car Rent, National, King Rent, Sixt, Locauto, Buchbinder, Ace, Welcome Cars, Smile Rent and Autoclick. You can usually find the largest selection at airports such as Verona Villafranca Valerio Catullo Airport, Vicenza Tommaso Dal Molin Airport, Treviso Sant'Angelo Antonio Canova Airport and Venice-Tessera Marco Polo Airport. The large companies usually have offices adjacent to the airport.
Car Hire & Rent a Car Vicenza Customer Feedback & Reviews