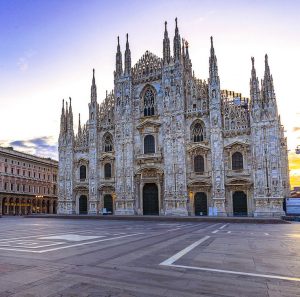 Rent a car where every cost is included, no hidden fees and free cancellations/amendments up to 24 hours before you are supposed to pick up the car. Easy and safe online booking of rental cars. Search for rental cars that you pick up directly at Milan Linate Airport. Our search box looks for all pick up locations nearby.
Autoitaly.co.uk lists prices from companies that are safe and quality assured so that there will not be any problems when you arrive. Airport code is IATA: LIN and ICAO: LIML. It always pays off to compare before you book. Small local businesses often have very good prices. We compare rental car prices and car hires from many companies at Milan Linate Airport in Milan, Italy and find the best prices on rental cars. Closest communities are Segrate 4 km, Bettola-Zeloforomagno 4 km, San Donato Milanese 6 km, Vimodrone 6 km and Pioltello 6 km. Collect the car in one place and return it somewhere else, e.g. another city or country. It is possible to rent a car for one way, called the one way rental. Minivan, standard, suv, jeep, fullsize, 7 seat minivan, economy, convertible, moped, estate, intermediate, 5 seat minivan, mini, 9 seat minivan, minibus, luxury, cargo van, premium, compact and automatic transmission cars are car types and models that autoitaly.co.uk can compare prices on. To find the best price, compare the following companies Yes Rent on Viale Enrico Forlanini 123, Sixt on Segrate, Sicily By Car on Viale Enrico Forlanini Segrate, Auto Europa on Viale Enrico Forlanini Segrate, ACE on Via Francesco Baracca 4 Novergo di Segrate, Locauto on Viale Enrico Forlanini Segrate, Budget on Sân Bay Viale Enrico Forlanini Segrate, Win Rent on Segrate, Hertz on Aeroporto Viale Enrico Forlanini 86, Goldcar on Viale Enrico Forlanini Segrate, Hertz Novegro Via di Novegro 49 on Via Novegro 49, Avis, Ciaorentcar on Via Novegro 31 Novegro, Firefly on Aeroporto Viale Enrico Forlanini, Maggiore National on Viale Enrico Forlanini Segrate, Interrent on Via Francesco Baracca 4 Novegro di Segrate, Europcar on Aeroporto Forlanini Segrate, Firefly Viale Forlanini 86 on Viale Enrico Forlanini 86 at autoitaly.co.uk in Italy. Compare car rentals for a week, one month, one day, as many days as you wish, long-term, weekend or a year.
About Milan Linate Airport (Linate Airport) data, information and facts. The airport is in the part Metropolitan City of Milan, in the Lombardy region, in Italy. Milan 7 km (c. 1236800 pop), Brescia 73 km (c. 184800 pop), Monza 13 km (c. 119600 pop), Bergamo 40 km (c. 114200 pop) and Novara 51 km (c. 93300 pop) are the closest big cities. Other names for this airport could be Linate Airport, Milano Linate Enrico Forlanini Airport, Milano Linate Airport, Aeroporto di Milano-Linate, International. The airport is located about 353 feet/108 meters above sea level. Other airports nearby are Il Caravaggio International Airport, Vares-Venegono Airport and Milano Malpensa Airport. These metro (subway) stations are located at the airport Lambrate, Udine, Piola, Cimiano, Crescenzago and Loreto. You will find accurate information about where to pick up and/or return your car on your order/voucher. All rental car companies have their own offices where you pick up keys etc. If you are planning or will be flying to, or from and use Milan Linate Airport, you will find information about the airport, maps, contact information and the weather here. Do you have time and are in the mood for tax-free shopping close to the airport? You will find Segrate Outlet Village, Galleria Vittorio Emanuele II, Corso Como and Centro Commerciale Auchan Vimodrone nearby.
If you come to the airport, or will continue by train when you have left or picked up the rental car, Stazione Milano Smistamento, Segrate Railway Station, Stazione Milano Forlanini and Stazione Milano Porta Vittoria are nearby. Country Hotel Borromeo, Espresso Hotel Milano Linate, Holiday Inn Milan-linate Airport and Air Hotel Milano Linate are some hotels and youth hostels close to the airport. If you need a place to sleep. They are all within 3 km. On site there are also car rental companies like Autoclick on Via Francesco Baracca 4 Novegro Tregarezzo, Win Rent on Viale Forlanini Enrico 32, ACE on Francesco Baracca 4 Segrate 20090 Novergo Segrate, B Rent on Aeroporto Via Enzo Jannacci C O Parcheggio Park in Segrate, Sixt on Viale Enrico Forlanini Segrate, Avis on Via di Vittorio 17 Bettola Zeloforamagno, Europcar on Novegro Tregarezzo, Maggiore Rent on Aeroporto Forlanini.
Car hire companies and car rental at Milan Linate Enrico Forlanini Airport (LIN), Italy
When you are looking for rental cars, we compare these companies Sixt, Keddy By Europcar, Locauto, Thrifty, Green Motion, Dollar, Avis, OS Car Rental, Oscar Rent A Car, MoriniRent, Payless, Smile Rent, Alamo, Hertz Dream Collection, Welcome Cars, JoyRent, Global Rent a Car, Autovia, Italy Car Rent, Firefly, King rent, Elba by Car, Hertz, CarMotion, Buchbinder, Noleggiare, Europcar, Autoclick, National, Rhodium, Budget, Centauro, B-Rent, Optimorent, Avant Car, InterRent, Ecovia, Viten Group, WinRent, Target Rent, Surprice, Maggiore, Enterprise, Sicily By Car, Nomadcar, Flizzr, Ace Rental Cars and Goldcar at autoitaly.co.uk, all with offices in Italy.
Car Hire & Rent a Car Milan Linate Enrico Forlanini Airport Customer Reviews & Feedback