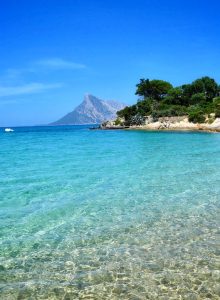 A lot of car rental companies operate on the island, serving the Costa Smeralda Airport in Olbia and other airports throughout Sardinia. You can rent a car on the airport or compare prices here. The number of available vehicles at the airport are usually high. However, seasonality is very noticeable.
The car rental firms offices are approximately 50 meters from the terminal's exit. The airport works with both domestic and foreign companies. You can reserve a car ahead of time or go to the information desk when you arrive. Companies like Avis, Europcar, Hertz, Sixt, and others can be found at the airport. One-way rentals are available at most of the major car rental agencies at Sardinia's Olbia Costa Smeralda Airport. When you rent a car one way, you pick it up at one location and drop it off at another. If you want to return the car somewhere else, the car rental agent will always charge you an additional fee. The car rental offices are open from the first to the last flight.
Autoitaly.co.uk lists prices from companies that are safe and quality assured so that there will not be any problems when you want to pick up your car. Airport code is IATA: OLB and ICAO: LIEO. Large and safe or small and cheap? It pays off to compare before you book. Here you can compare rental cars and vehicle rent from several companies at Olbia Costa Smeralda Airport in Olbia, Italy. Closest communities are Olbia 3 km, Arzachena 22 km, Tempio Pausania 35 km, La Maddalena 36 km, Siniscola 39 km and Ozieri 56 km.
Search for rental cars that you pick up directly at Olbia Costa Smeralda Airport. Our search box looks for all pick up locations nearby. Rent a car where every cost is included, no hidden fees and free cancellations/amendments up to 24 hours before you are supposed to pick up the car. Easy and safe online booking of rental cars. Moped, 9 seat minivan, minibus, minivan, 7 seat minivan, standard, luxury, premium, estate, cargo van, economy, 5 seat minivan, compact, mini, fullsize, suv, jeep, intermediate, convertible and automatic transmission cars are car types and models that autoitaly.co.uk can compare prices on. Compare car rentals for a week, one month, one day, as many days as you wish, long-term, weekend or a year. Collect the car in one place and return it somewhere else, e.g. another city or country. It is possible to rent a car for one way, called the one way rental. When you are looking for rental cars, compare these companies Noleggiare, Ellepi, Sixt on Via Degli Astronauti, Budget on Aeroporto, Sardinya di Carta Luciano Bonaventura on Via, Maggiore Amico Blu, Palarent on Via Dei Fornai 6, Win Rent on Terminal, Sicily By Car, Interrent on Snc, Mida Rent, Sardinya, Ruvioli, Locauto, Europcar on C O, Hertz on Aeroporto, Avis on Agenzia Dogane Via Degli Astronomi, Goldcar on Via 219 at autoitaly.co.uk, all with offices in Italy.
Facts, data and information about Olbia Costa Smeralda Airport. The airport is divided into two terminals. The terminal's is divided into two floors: 1st floor, departure and arrival halls, check-in areas, ticket offices, luggage and hand luggage storage, lounges, stores, and outlets. The airport offers free internet access. "WiFi Olbia Airport" is the network's name and is available to all the passengers. At Olbia Airport, there are about 20 stores selling souvenirs, local items, alcohol, and cosmetics. A pizzeria, a wine bar, kiosks, an Italian restaurant, and a coffee shop are among the stores. Easy Jet fly from London and Milan, Air Italy fly from Rome and Milan, Transavia fly from Amsterdam, Vueling fly from Barcelona, and Volotea fly from Verona.
The airport which is in the municipality of Provincia di Sassari, in the Sardinia region, in Italy. Alternative names for the airport are Aeroporto di Olbia-Costa Smeralda, Olbia Costa Smeralda Airport, Olbia – Costa Smeralda Airport, International. The airport is located about 37 feet/11 meters above sea level. Sassari 83 km (c. 91900 pop), Olbia 3 km (c. 42900 pop), Nuoro 66 km (c. 35900 pop), Porto Torres 94 km (c. 21700 pop) and Tempio Pausania 35 km (c. 12700 pop) are big cities and municipalities nearby. Need a place to sleep? Grand Hotel President, Hotel Ristorante Savoia, de Plam and Hotel Cavour are examples of hotels and youth hostels close to the airport. They are all within 3 km. Do you have time and are in the mood for tax-free shopping close to the airport? You will find Centro Commerciale Auchan Olbia nearby. Are you planning to, or flying to/from, and will be using Olbia Costa Smeralda Airport on your holiday or trip? Here you can find information, maps, weather, contact information and airport information. More information on where to you pick up or return your rental car, will be given after your reservation has been made. All companies have their own offices where you can pick up keys etc. On site there are also car rental companies like Mickyrent on Viale Isola Bianca 38, Wowrent on Via Dei Panettieri, Europcar on Via Genova 67, Firefly on Aeroporto Loc Colcò Zona, Firefly on Via Dei Maniscalchi, Welcome Cars on Aeroporto, Eurorent on Via Ot 07026, Enterprise, B Rent, Futura on Via de Filippi 45, Facility Hertz on Via Dei Fabbri 63, Hertz on Via de Filippi 58, Avis on Via Dei Fornai, Go Rent on Via Caduti Sul Lavoro 1, Green Motion Airport on Via Antonio Melis 16.
Buses, Taxi and Parking
The first buses from the airport depart at 6.15 a.m., No. 10 (to Centro Martini and back), and the last at 23.40 a.m., with a 30-40 minute delay between them. There is a private shuttle, which Costa Smeralda Airport provides and travels to the city of Olbia. Some buses run from the airport to other towns in Sardinia. If you arrive, or will continue travelling by train, closest train stations are Stazione Olbia Marittima, Fermata di Enas and Fermata Marinella. They are all within 4 km.
Taxis are on duty 24 hours a day, seven days a week, at the taxi rank near the passenger terminal building. Taxis from the airport to Olbia start at 15 euros. It is recommended to use mobile taxi apps like MyTaxi, WeTaxi, and AppTaxi.
The airport's parking spots are divided into three zones: A, B, and C. There are more than 1000 parking places in total. The first two parking lots are meant to be used for long periods (near the departure and arrival areas). Zone C is closest to the terminal's entrance and is for short-term parking. Parking slots A and B can be reserved in advance.
Car rental companies at Olbia Costa Smeralda Airport (OLB), Italy
To find the best price, compare the following companies Locauto, Sixt, Goldcar, Flizzr, Global, Optimorent, Nomadcar, Surprice, Key and Go, Autoclick, Avant Car, CarMotion, Rhodium, Viten Group, JoyRent, Hertz, InterRent, Ace, Centauro, Dollar, King Rent, National, Avis, WinRent, Enterprise, Green Motion, Hertz Dream Collection, Thrifty, Firefly, Maggiore, Europcar, OS Car Rental, Buchbinder, Smile Rent, Autovia, Payless, Italy Car Rent, Welcome Cars, Target Rent, Noleggiare, B-Rent, Ecovia, MoriniRent, Keddy By Europcar, Sicily By Car, Budget, Alamo, Elba by Car and Oscar at autoitaly.co.uk in Italy.
Car Hire & Rent a Car Olbia Costa Smeralda Airport Customer Feedback & Reviews