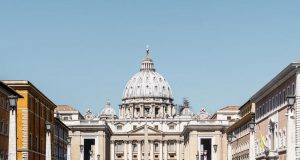 Search for rental cars that you pick up directly at Rome Ciampino Airport. Our search box looks for all pick up locations nearby. Rent a car where every cost is included, no hidden fees and free cancellations/amendments up to 24 hours before you are supposed to pick up the car. Easy and safe online booking of rental cars.
Large or small company? Even if you want a large company it could be worthwhile to compare the small one´s first. Local companies can offer very good prices in some places. At our website you can compare prices on rental cars and car hires from several companies at Rome Ciampino Airport, Ciampino, Italy. Find the best prices for rental cars online. Closest cities are Ciampino 1 km, Marino 6 km, Grottaferrata 6 km, Frascati 7 km, Albano Laziale 10 km and Rocca di Papa 10 km. Autoitaly.co.uk only lists prices from companies that are safe and quality assured so that there will not be any problems when you arrive. Airport code is IATA: CIA and ICAO: LIRA. Compare long-term rental for one day, one year, a whole month, week, weekend, or for as many days as you wish. Collect the car in one place and return it somewhere else, e.g. another city or country. It is possible to rent a car for one way, called the one way rental. To find the best price, compare the following companies Maggiore Rent on Aeroporto, Sycyly Autoeuropa Parking, Avis, Goldcar on Autonoleggiatori Via Mario Mameli, Hertz Italiana Linea Per Il Fax on Viale Mameli Rm 00043, Budget on Via Mario Mameli Rm, Sicily By Car Autoeuropa on Via Dell Aeroscalo 5, Sixt on Parcheggio 6 di Rm It 00043, Maggiore Rent on Via Dell Aeroscalo 5, Sicily By Car on Via Appia Nuova 1651, ACE on Airport in Terminal, Maggiore Amico Blu on Aeroporto Giovan Battista Pastine Via Appia Nuova 1651, Hertz on Via Appia Nuova 1651, Locauto on Via Mario Mameli, Avis on Viale Mameli 14, Interrent on Via Luigi Bandini, Europcar Sud on Via Appia Nuova 1651 C O, Centauro on Parkingo Via Luigi Bandini, Win Rent on Via Mario Mameli at autoitaly.co.uk in Italy. Suv, jeep, premium, standard, moped, minivan, compact, fullsize, economy, intermediate, luxury, convertible, 9 seat minivan, minibus, estate, cargo van, 5 seat minivan, 7 seat minivan, mini and automatic transmission cars are car types and models that autoitaly.co.uk can compare prices on.
Data, information and facts about Rome Ciampino Airport (Ciampino – G.B. Pastine International Airport). The airport is in the part Province of Rome, in the Latium region, in Italy. The airport is located about 427 feet/130 meters above sea level. Closest big cities are Rome 12 km (c. 2318900 pop), Acilia-Castel Fusano-Ostia Antica 22 km (c. 129400 pop), Terni 85 km (c. 97100 pop), Lido di Ostia 27 km (c. 79400 pop), Latina 45 km (c. 76300 pop) and Guidonia Montecelio 24 km (c. 67500 pop). Ciampino – G.B. Pastine International Airport, Rome Ciampino Giovan Battista Pastine Airport, Roma Ciampino Airport, Aeroporto di Roma-Ciampino, Ciampino – Aeroporto Internazionale G.B. Pastine, International are alternative names. Other airports nearby are Leonardo da Vinci–Fiumicino Airport, Latina Airport and L'Aquila's Preturo Airport. Shopping that's tax-free? IKEA Roma Anagnina, Centro Commerciale Anagnina and Centro Commerciale Petrocelli are nearby the airport. All within 3 km. Closest train stations are Stazione di Ciampino, Stazione Torricola and Stazione della Pavona. If you arrive or will continue travelling by train, they are all within 4 km. Hotels and lodging that are close to the airport are Villa Giulia, Albergo Laura, Hotel Louis I, Palacavicchi and Hotel Louis, if you need somewhere to sleep on your journey there or home. They are all within 3 km.
You will find accurate information about where to pick up and/or return your car on your order/voucher. All rental car companies have their own offices where you pick up keys etc. If you are planning or will be flying to, or from and use Rome Ciampino Airport, you will find information about the airport, maps, contact information and the weather here. EUR Fermi, EUR Palasport, Marconi, Basilica S. Paolo, EUR Magliana and Garbatella are subway (metro) stations nearby.
Car rental companies at Rome Ciampino Giovan Battista Pastine Airport (CIA), Italy
To find the best price, compare the following companies Flizzr, Nomadcar, Hertz Dream Collection, Noleggiare, Avis, Rhodium, Smile Rent, Alamo, Budget, WinRent, Key and Go, Welcome Cars, Centauro, National, Green Motion, Italy Car Rent, Viten Group, Locauto, King Rent, Ecovia, Autovia, Keddy By Europcar, JoyRent, Buchbinder, Hertz, Elba by Car, Autoclick, Sicily By Car, Global, Thrifty, B-Rent, Oscar, Maggiore, InterRent, CarMotion, Dollar, OS Car Rental, Ace, Goldcar, Enterprise, Avant Car, Firefly, MoriniRent, Target Rent, Surprice, Payless, Sixt, Optimorent and Europcar at autoitaly.co.uk in Italy.
Car Hire & Rent a Car Rome Ciampino Giovan Battista Pastine Airport Customer Feedback & Reviews