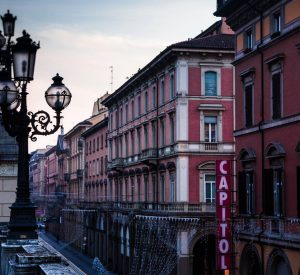 Rental cars you can pick up directly at the airport, Bologna Guglielmo Marconi Airport. Look for a location and choose destination in the list. We can offer car hire where every cost is included, no hidden fees and free cancellations/amendments up to 24 hours before you are supposed to pick up the car. A safe and easy online search for rental cars.
Autoitaly.co.uk lists prices from companies that are safe and quality assured so that there will not be any problems when you arrive. Airport code is IATA: BLQ and ICAO: LIPE. It always pays off to compare before you book. Small local businesses often have very good prices. We compare rental car prices and car hires from many companies at Bologna Guglielmo Marconi Airport in Bologna, Italy and find the best prices on rental cars. Closest communities are Calderara di Reno 3 km, Bologna 6 km, Anzola dell'Emilia 7 km, Casalecchio di Reno 7 km, Progresso 7 km and Castel Maggiore 7 km. It is possible to rent a car for one way, this is called a one way rental. You collect the car in one place and return it somewhere else, e.g. another city or country. Fullsize, intermediate, suv, jeep, premium, mini, compact, 9 seat minivan, minibus, cargo van, minivan, luxury, convertible, 7 seat minivan, estate, 5 seat minivan, moped, standard, economy and automatic transmission cars are car types and models that autoitaly.co.uk can compare prices on. Compare car hire for a day, long term, one year, a whole month, week, weekend or for as many days as you wish. Interrent on Via Serra 4 Calderara di Reno, Sixt on Via del Triumvirato 84, Autovia on Via Persicetana 6 Bargellino, Autovia on Via del Triumvirato 84, Europcar on Via del Triumvirato 84 40132 C O G Marconi, Goldcar on Via del Triumvirato 84, Budget on Via del Triumvirato 84 Borgo Panigale, Maggiore on Via del Triumvirato Apt Borgo Panigale, Avis on Via del Triumvirato 84, Hertz on Via del Triumvirato 84, Firefly on Via del Triumvirato 84, Firefly on Via del Triumviriato 84, Enterprise on Via del Triumvirato 84, Locauto on Via del Triumvirato 84, Thrifty on Via del Triumvirato 84, Noleggiare on Via del Triumvirato 84, Win Rent on Via del Triumvirato, Sicily By Car on Via del Triumvirato 84 are the companies we compare at/in the airport/country.
About Bologna Guglielmo Marconi Airport information, facts and data. The airport is in the municipality of Provincia di Bologna, in the Emilia-Romagna region, in Italy. Aeroporto di Bologna-Guglielmo Marconi, Bologna Guglielmo Marconi Airport, Bologna Borgo Panigale Guglielmo Marconi Airport, International are alternative names. Bologna 6 km (c. 366100 pop), Florence 84 km (c. 349300 pop), Prato 74 km (c. 181800 pop), Modena 31 km (c. 158900 pop), Parma 82 km (c. 146300 pop) and Reggio nell'Emilia 55 km (c. 133300 pop) are the closest big cities. Forlì International Airport, Ravenna Airport and Florence Peretola Airport are nearby airports. The airport is situated above sea level by 123 feet/37 meters. Do you need to stay overnight after your arrival? Then the following hotels, Airport Palace Hotel Bologna, Sheraton Bologna Hotel & Conference Center, Brianza and del Borgo, are nearby. You will find accurate information about where to pick up and/or return your car on your order/voucher. All rental car companies have their own offices where you pick up keys etc. If you are planning or will be flying to, or from and use Bologna Guglielmo Marconi Airport, you will find information about the airport, maps, contact information and the weather here. Closest train stations are Stazione Bologna Ravone, Stazione Bologna San Donato, Bologna Centrale railway station and Corticella Stazione. If you arrive or will continue travelling by train, they are all within 4 km. Le Rotonde di Zola, IKEA Bologna, Centro Lame and Centro Commerciale Navile are nearby the airport if you want to shop or are looking for tax-free goods. They are within 3 km. On-site car rental companies include Budget Italia on Aeroporto, Joyrent on Via del Maccabreccia 19 A San Vitale Grande, Europcar Nord on Viale Alcide de Gasperi 40 A, ACE on Via del Triumvirato 84.
Car rental companies at Bologna Borgo Panigale Guglielmo Marconi Airport (BLQ), Italy
Europcar, MoriniRent, Noleggiare, Budget, Hertz, Alamo, King Rent, Locauto, Viten Group, Buchbinder, Enterprise, Key and Go, Avis, Italy Car Rent, B-Rent, Welcome Cars, Goldcar, JoyRent, Global, OS Car Rental, WinRent, Autoclick, Nomadcar, Sicily By Car, Surprice, CarMotion, Hertz Dream Collection, Dollar, Smile Rent, Keddy By Europcar, Ace, National, Ecovia, Firefly, Avant Car, Rhodium, Optimorent, Flizzr, Sixt, Green Motion, Oscar, Maggiore, Target Rent, Autovia, Payless, Centauro, Elba by Car, Thrifty and InterRent are the companies we compare at the airport to find the best price.
Car Hire & Rent a Car Bologna Borgo Panigale Guglielmo Marconi Airport Customer Feedback & Reviews