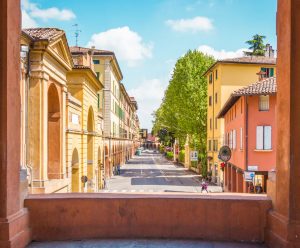 Easy and safe online booking for rental cars. Search for a city, airport etc. and choose a pick up location. The search will look for all types of models. Rental cars are available at Bologna's travel centre, train stations (Stazione Bologna San Donato, Bologna Centrale railway station, Stazione Bologna San Vitale, Stazione Bologna Ravone, Stazione di Casalecchio Garibaldi, Stazione di Casalecchio di Reno and Corticella Stazione) and airports like Bologna Guglielmo Marconi Airport, Forlì International Airport, Ravenna Airport and Florence Peretola Airport, BLQ. Car hire where every cost is included, no hidden fees and free cancellations/amendments up to 24 hours before you pick up the car.
Comparison of rental car and car hire from several businesses in the city Bologna, Italy. Find the best prices for rental cars online. Comparing prices online can be very profitable, many smaller companies can only be booked on site. When you are looking for rental cars we compare these companies Locauto on Viale Pietro Pietramellara 35 I, Autovia on Via Jacopo Barozzi 11b, Morini Rent on Via Marco Polo 91a, Alamo on I Viale Pietro Pietramellara 35, Galdieri Rent on Viale Santisaia 102, Avis on Via Nicolo Dall Arca 2 D Angolo Via Carracci, Travelcar on Viale Angelo Masini 4, Budget on Via Nicolò Dallarca 2, Enterprise on Viale Pietro Pietramellara 16, Autovia on Via del Triumvirato 84, Autovia on Via Enrico Mattei 48, Wowrent on Viale Aldini 5, Maggiore on Via del Triumvirato Apt Borgo Panigale, Budget on Dallarca Via Nicolò Dallarca 1, Win Rent on Via Giovanni Amendola 9, Maggiore on Via Cairoli 4, Europcar Via Boldrini on Via Cesare Boldrini 22 B, Hertz on Stazione Centrale Via Cesare Boldrini 4.
Bologna is a city in the municipality Provincia di Bologna, Emilia-Romagna region, Italy. It is the county seat in the region. 1th largest city/town when it comes to inhabitants in the region and the 7th largest town/district in Italy. Progresso, Rubiera, Castel San Pietro Terme, Scandiano, Nonantola, Novellara, Alfonsine, Santa Viola, Fossolo, Montalbano, Tre Madonne and Volta Casaralta are small villages, suburbs and communities nearby. Modena (c. 158900 pop), Reggio nell'Emilia (c. 133300 pop), Forlì (c. 93600 pop) and Ferrara (c. 92800 pop) are larger neighbouring communities and cities. The town has about 366 100 (2015) inhabitants. The town/city is located about 54 MASL. Read more about what the city has to offer when it comes to experiences and which companies are located in Provincia di Bologna and the country. There are also car rental companies such as Sicily By Car Città on Viale Pietro Pietramellara 37, B Rent on Via de Carracci Interno Stazione Centrale, National Business on Via Giovanni Amendola 12, Ncc Autoblu di Capuano Renato on Via Giovanni Francesco Barbieri 111, Budget Italia on Via Cairoli 4, Galdieri Rent on Via del Lavoro 48 G and others. Learn more about which companies are located in the country.
A few suggestions on events, attractions, museums, activities, experiences, places and destinations in Bologna which are worth a visit during your holiday in the city. Palazzo Re Enzo, Palazzo Bentivoglio, Palazzo Boncompagni, Palazzo Davia Bargellini, Palace of Notai, Palazzo Pallavicini, Palazzo Merendoni, Palace of Banchi, Palazzo Aldovrandi and Palace of Casa di Risparmio are magnificent and interesting buildings, villas and palaces close to the centre of Bologna. Finestrella and Porta Galliera are old arches and arcs that are worth a visit. Circolo Tennis Casalecchio are located nearby if you want to watch sports or see a game. To watch and experience football, sports and concerts etc. you can visit Unipol Arena and Stadium Renato Dall'Ara. Cultural centres such as Centro Sociale Culturale Sandro Pertini are located close to the town centre.
Do your shopping and make some bargains at Mercato La Piazzola di Bologna, these are markets that are close by and well worth a visit. In the city, there are interesting monuments and statues of famous people and events like Pozzo dei desideri and Fountain of Neptune. Notable squares or large open spaces that are close by, Piazza del Nettuno, Piazza Malpighi, Piazza San Francesco, Piazza Galvani and Piazza del Francia. Ippodromo di Bologna are race tracks and motor stadiums located in the city if you want to gamble on horses in horse racing or harness racing etc. Are you going on a golf trip and looking for golf courses? The golf courses, Golf Club Bologna 14 km and Casalunga Golf Resort 10 km, are located close to the city.
Why not visit Theater Dehon, Theater Auditorium Manzoni, Theater Comunale Laura Betti, Theater Vita and Theater Comunale di Bologna to experience and see music, plays and shows nearby Bologna. Fascinating parks and gardens in the central parts of the city are Giardino Salvatore Pincherle, Giardino Decorato al Valore Civile, Gardens of Villa Cassarini, Giardino Parker-Lennon and Orto Botanico. Giardini Margherita, Park Villa Aldini, Park Montagnola, Saint Michele in Bosco and Park San Francesco are relaxing green areas, park and plantings if you want to relax and have a picnic on the grass. Are you planning a wine tour and tasting in Bologna? Some of the vineyards and wine producers that are close to the the city are, for example, I Cappucci Antonio Rizzoli, Azienda Agricola Tizzano, Osteria Del Fibbia and Nugareto. Centro Commerciale Navile, Via Rizzoli, Shopville Gran Reno, Le Rotonde di Zola, Centro Lame and IKEA Bologna are malls in the city if you want to do some shopping.
Beautiful churches or cathedrals not far away are Basilica of San Francesco, S. Domenico, Cathedral of Metropolitana di San Pietro, Basilica of San Petronio and Santuario di Santa Maria della Vita. Museums and art galleries in Bologna that could be interesting are Museum of Sanità e Dell'Assistenza, Museo Ebraico, Casa Natale di Guglielmo Marconi, Collezioni Comunali d'Arte, Museo Civico Archeologico, Palazzo Pepoli Antico, Palazzo Belloni, Palazzo Fava – Fondazione Carisbo, International museum and library of music and Palazzo D'Accursio.
Car hire in airports nearby
Car hire in airports nearby: Rent a Car Bologna Guglielmo Marconi Airport, Florence-Peretola Airport and Parma Airport.
Car rental companies in Bologna, Italy
Ace Rental Cars, Centauro, King rent, B-Rent, Italy Car Rent, Dollar, Optimorent, Ecovia, Budget, Autovia, Goldcar, Locauto, Oscar Rent A Car, Maggiore, Autoclick, Noleggiare, OS Car Rental, Payless, Buchbinder, Smile Rent, Alamo, Sixt, Keddy By Europcar, Green Motion, Europcar, Firefly, Surprice, Thrifty, Viten Group, Hertz, InterRent, CarMotion, Global Rent a Car, Nomadcar, Avant Car, National, Elba by Car, MoriniRent, Flizzr, Target Rent, WinRent, JoyRent, Sicily By Car, Enterprise, Avis, Welcome Cars, Rhodium and Hertz Dream Collection are the companies we compare in Bologna. You can usually find the largest selection at airports such as Bologna Borgo Panigale Guglielmo Marconi Airport, Florence Peretola Amerigo Vespucci Airport and Parma Giuseppe Verdi Airport. The large companies usually have offices adjacent to the airport.
Car Hire & Rent a Car Bologna Customer Reviews & Feedback