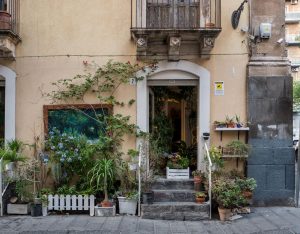 Autoitaly.co.uk lists prices from companies that are safe and quality assured so that there will not be any problems when you want to pick up your car. Airport code is IATA: CTA and ICAO: LICC. Large and safe or small and cheap? It pays off to compare before you book. Here you can compare rental cars and vehicle rent from several companies at Catania–Fontanarossa Airport in Catania, Italy. Closest communities are Catania 3 km, Misterbianco 8 km, Canalicchio 9 km, Sant'Agata Li Battiati 10 km, Motta Sant'Anastasia 10 km and Gravina di Catania 10 km.
We can offer car hire where every cost is included, no hidden fees and free cancellations/amendments up to 24 hours before you are supposed to retrieve the car. Easy and safe online search for rental cars. Rental cars you can pick up directly at the airport, Catania–Fontanarossa Airport. Look for a location and a choose destination in the list. 5 seat minivan, estate, intermediate, economy, fullsize, luxury, standard, mini, moped, convertible, premium, 9 seat minivan, minibus, compact, cargo van, minivan, suv, jeep, 7 seat minivan and automatic transmission cars are car types and models that autoitaly.co.uk can compare prices on. Compare car hire for a day, long term, one year, a whole month, week, weekend or for as many days as you wish. It is possible to rent a car for one way, this is called a one way rental. You collect the car in one place and return it somewhere else, e.g. another city or country. To find the best price, compare the following companies Goldcar on Via 20, Locauto on Aeroporto, Italy Car Rent Office on Via 20, Hertz Via on Contrada Pantano Darci, Budget on Via 20, Hertz on Via San Alla Rena 19 E, Noleggiare on Via, Avis on Via San Alla Rena 87, Avis on Via, Auto Europa on Via 20, Sicil By Car on Via San Alla Rena 89, Win Rent on Via 21, Sicily By Car on Via 20, Win Rent on Via 20, Maggiore Amico Blu on Via Forcile 12, OS on Via 20, ACE on Via, Europcar on Via 20 C O at autoitaly.co.uk in Italy.
About Catania–Fontanarossa Airport facts, data and information. The airport which is in the municipality of Catania, in the Sicily region, in Italy. The airport is located about 39 feet/12 meters above sea level. Closest big cities are Catania 3 km (c. 290900 pop), Messina 91 km (c. 219900 pop), Reggio Calabria 89 km (c. 169100 pop), Syracuse 48 km (c. 97500 pop) and Gela 85 km (c. 73900 pop). Alternative names for the airport are Aeroporto internazionale Vincenzo Bellini di Catania-Fontanarossa, Catania–Fontanarossa Airport, Aeroporto di Catania-Fontanarossa, Catania Fontanarossa Vincenzo Bellini Airport, International. The airports Sigonella NAS, Vincenzo Magliocco Airport and Reggio Calabria Airport are also nearby. Do you need to stay overnight after your arrival? Then the following hotels, La Fontana Dell'amenano B&b, Le Dune Sicily Hotel, Hotel Miramare and Nh Parco Degli Aragonesi, are nearby. You will find accurate information about where to pick up and/or return your car on your order/voucher. All rental car companies have their own offices where you pick up keys etc. If you are planning or will be flying to, or from and use Catania–Fontanarossa Airport, you will find information about the airport, maps, contact information and the weather here. Shopping that's tax-free? Centro Commerciale Auchan Misterbianco, Porte di Catania, Centro Commerciale Città Mercato Catania Larena and Centro Commerciale Fiordaliso are nearby the airport. All within 3 km. If you arrive, or will continue travelling by train, closest train stations are Catania Railway Station, Stazione Bicocca and Stazione Catania Centrale. They are all within 4 km. On site there are car rental companies such as Sixt on Via, Maggiore on Aeroporto Via, Joyrent on Via 20, Europcar Aereoporto Cr on Via 95121 Ct Via Brucoli 16, Autovia Ecovia, Morini Rent on Via San Alla Rena 83, Sicilibycar on Contrada Pantano Darci, Autogate Auronoleggio on Via Sn, Sicily on Vincenzo Bellini 95121 Ct, Carmotion on Via San Alla Rena Fondo 4, Firefly on Aeroporto Internazionale di Via San Alla Rena 19 D F, Target Rent on Presso Vip Car Park, Herz on Partenze 20, Locauto Return, Car4hires on Via San Alla Rena.
Car hire companies and car rental at Catania Fontanarossa Vincenzo Bellini Airport (CTA), Italy
When you are looking for rental cars, we compare these companies Avant Car, Firefly, Smile Rent, Maggiore, WinRent, Avis, Ecovia, Viten Group, OS Car Rental, Keddy By Europcar, Thrifty, Sixt, JoyRent, Centauro, King rent, Enterprise, Payless, Global Rent a Car, Italy Car Rent, Welcome Cars, Noleggiare, Rhodium, B-Rent, MoriniRent, InterRent, Autoclick, Flizzr, Autovia, Goldcar, Europcar, Oscar Rent A Car, Buchbinder, Hertz Dream Collection, Elba by Car, Budget, Target Rent, Locauto, Green Motion, Sicily By Car, Surprice, Ace Rental Cars, Nomadcar, Dollar, Hertz, CarMotion, National, Alamo and Optimorent at autoitaly.co.uk, all with offices in Italy.
Car Hire & Rent a Car Catania Fontanarossa Vincenzo Bellini Airport Customer Reviews & Feedback