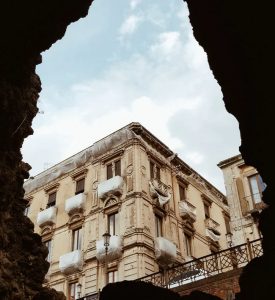 We compare large companies as well as small and find the best price for all types of cars. Compare rental cars and renting of a vehicle from several companies in the town, Catania in Italy.
Car hire at Catania's airports like Catania–Fontanarossa Airport, Sigonella NAS and Vincenzo Magliocco Airport, CTA, train stations (Catania Railway Station, Stazione Catania Borgo, Stazione Catania Centrale, Stazione Catania Sicula, Stazione Catania Porto and Stazione Bicocca) and travel centres etc and ports/ferry terminals like Catania Ferry Port. We can offer a car hire service where every cost is included. There are no hidden fees or free cancellations/amendments up to 24 hours before you are supposed to pick up the car. An easy, straight forward and safe search for car hire online. With our search engine, you only need to write the name of the city, place etc. and you will immediately get a list of choices. We compare these companies in this city or in; Sicily, Noleggiare on Via Fontanarossa, Budget on Fontanarossa Via Fontanarossa 20, Sicily on Via Fontanarossa 25, Avis on Presso Vecchia Dogana Via Cardinale Dusmet, Avis on Via Fontanarossa, Budget on Via Cardinale Dusmet, Sicil By Car on Via San Alla Rena 89, Hertz on Via San Alla Rena 19 E, Avis on Via Guido Gozzano 53, Car4hires on Via San Alla Rena, Sicilibycar on Contrada Pantano Darci, Maggiore Amico Blu on Via Forcile 12, Auto Europa on Via Fontanarossa 20, Europ on Via Fontanarossa, Win Rent on Via Fontanarossa 21, Avis on Via San Alla Rena 87, Firefly on Via San Alla Rena 19 D F, Europcar Dt on Viale Vittorio Veneto 184.
Catania is located in the municipality Catania, Sicily region, Italy and is a town. It is the central city in the area. It is the 2th largest town/city when it comes to inhabitants in the region and the 9th largest city/district in Italy. Whether you are visiting the town Catania just for one day or for a longer period, there is plenty to do. Read more further down. Located about 7 m above sea level. Larger neighbouring cities/communities are Syracuse (c. 97500 pop), Acireale (c. 49500 pop) and Paternò (c. 46000 pop). Carlentini, Leonforte, Tremestieri Etneo, Grammichele, Francofonte, Pedara, San Nullo, Bicocca, Canalicchio and Cerza are small villages, suburbs and communities nearby. The population of the town is about 290 900 in 2015. Nearby are also car rental companies such as Europcar on Via Fontanarossa 20 C O, Win Rent on Via Fontanarossa 20, OS on Via Fontanarossa 20 etc. Get some tips on local companies in Catania.
Wondering what there is to see and do in Catania? Here are a few suggestions on activities, attractions, museums, events, destinations, places and experiences that are worth a visit during your holiday in the town. Are you planning a wine tour and tasting in Italy? Wineries and wine producers that are close to Catania are, for example, Azienda Vinicola Benanti and Agro Enotecnica Giovanni Nicolosi. Manors and palaces worth seeing up close nearby in Catania, are Minoriti Palace, Palazzo San Giuliano, Palazzo Biscari, Palace of Elefanti, Palazzo Platamone and Palazzo Pedagaggi. All within walking distance. Want to look at the domiciles of the city's old rulers? Exciting castles such as, Castello Normanno are located close to Catania. Watch the local team play? Or see a concert? Watch football? Close to the town centre are the Stadium Angelo Massimino.
Find the best car hire and cheapest car rental in airports nearby
Find the best car hire and cheapest car rental in airports nearby: Cheap Hire Cars Catania-Fontanarossa Airport, Car Hire Reggio Calabria Airport and Hire a Car Cheap Comiso Ragusa Airport. Prices include any airport fees, free mileage and obligatory insurances, taxes and fees etc in Catania.
Car rental companies in Catania, Italy
WinRent, Key and Go, Hertz Dream Collection, Flizzr, Ecovia, Sicily By Car, Target Rent, Nomadcar, Payless, Avant Car, Global, Dollar, Firefly, B-Rent, Goldcar, Rhodium, InterRent, Keddy By Europcar, Oscar, Alamo, MoriniRent, Thrifty, Maggiore, Surprice, Elba by Car, Budget, Centauro, CarMotion, Noleggiare, OS Car Rental, Enterprise, Europcar, Optimorent, JoyRent, Autovia, Viten Group, Hertz, Avis, Green Motion, Italy Car Rent, National, King Rent, Sixt, Locauto, Buchbinder, Ace, Welcome Cars, Smile Rent and Autoclick are the companies we compare near Catania to find the best price. You can usually find the largest selection at airports such as Catania Fontanarossa Vincenzo Bellini Airport, Reggio Calabria Stretto Tito Minniti Airport, Comiso Vincenzo Magliocco Pio La Torre Airport and Sigonella Naval Air Station. The large companies usually have offices adjacent to the airport.
Car Hire & Rent a Car Catania Customer Feedback & Reviews