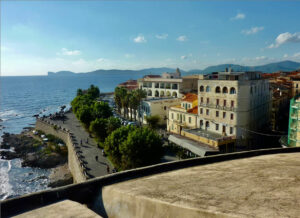 Comparison of rental car prices and car hire from several businesses in the town Alghero in Italy. Find the best prices for rental cars. It always pays off to compare before you book, in some smaller communities local companies can have very competitive prices. Easy and safe online booking for rental cars. Search for a city, airport etc. and choose a pick up location. The search will look for all types of models. Rental cars are available at Alghero's travel centre, train stations and airports like Alghero-Fertilia Airport and Oristano-Fenosu Airport, AHO and ferry terminals and ports (Port of Alghero and Port of Fertilia). Car hire where every cost is included, no hidden fees and free cancellations/amendments up to 24 hours before you pick up the car. We compare these companies in this city or in; Sardinia, Avis on Via Garibaldi 87 Presso Quarte Sayal, Sardinya di Carta Luciano Bonaventura on Via Garibaldi 113, Europcar on Via Iv Novembre 24, Welcome Cars on Reg Biancu.
About the town Alghero (Alguer), located in the Provincia di Sassari part, Sardinia region, Italy. Is a locality in the area. 6th largest town/city when it comes to inhabitants in the region and the 212th largest town/district in Italy. With about 34 300 (2015) inhabitants. Smaller villages, communities and suburbs nearby are Sorso, Macomer, Li Punti-San Giovanni, Ittiri, Bosa, Galboneddu, Casa Linari, Fertilia and Valverde. Are you planning to stay for a long period and spend your holiday here? Then there are many things to do and experience. The community/city is located about 7 MASL. Larger neighbouring cities/communities are Sassari (c. 91900 pop), Porto Torres (c. 21700 pop) and Sorso (c. 11400 pop). We also give tips on which companies offer rental cars in Provincia di Sassari.
Suggestions on attractions, museums, activities, events, experiences, places and destinations that are worth a visit during your trip to the town Alghero. Lazzaretto, Spiaggia Lido di San Giovanni, Spiaggia di Fertilia, Spiaggia delle Bombarde, Calabona and Spiaggia di Las Tronas are beaches that are close to the community if you want to relax, swim and sunbathe. Palazzo D,albis, Palazzo Machin, Palazzo Peretti and Palazzo Guillot are magnificent and interesting buildings, villas and palaces close to the centre of Alghero. Fortificazioni di Monte Doglia are fascinating old forts, strongholds and fortresses and are located in the town. Statues and monuments of interesting historical events and people like El mirador Giuni Russo, Torre Sulis and Torre della Maddalena.
If you are travelling with children and want to visit an amusement park, water park or theme park, you have these options; Parco divertimenti Le Bombarde, Splash Aquapark and Parco Avventura – Le Ragnatele. Are you interested in history and archaeology? Nearby are interesting places located at Anghelu Ruju Necropolis and Towers and Ramparts of Alghero. Ancient relics, cultural heritage, antiquities and older buildings close to Alghero are located at Ponte Romano, Archaeological area of Anghelu Ruju and Roman Villa and Nuragic Village of Saint Imbenia. Are you planning a wine tour and tasting in Italy? Vineyard and wine producers that are close by are Vigneti Sella & Mosca and Azienda Vinicola Cherchi. A day at the museums and art galleries of the city? These are located in the central parts of the city at Museum of Corallo di Alghero, Museo Archeologico della Città, Mare Nostrum Aquarium and Museo Casa Manno.
Cathedral of Santa Maria, Chiesa San Michele and Church of San Francesco are notable churches or cathedrals close by. Giardini La Lepanto – Cecchini and Giardini Giuseppe Manno are located within a walking distance if you want to enjoy and experience a botanical garden. Parks, green areas and plantings worth visiting for recreation and relaxing are Colle del Balaguer and Park Tarragona. Golf Club Alghero 7 km are golf courses located close to the community. Do you want to play some golf or are planning a golf trip?
Nearby destinations, Alghero
Find the best car hire and cheapest car rental in airports nearby: Cheap Hire Cars Alghero-Fertilia Airport, Car Hire Oristano-Fenosu Airport and Hire a Car Cheap Olbia Costa Smeralda Airport. There are no hidden fees or free cancellations/amendments up to 24-48 hours before you are supposed to pick up the car in Alghero. Rent a car in cities in the region: Cheapest Hire Cars Cagliari, Car Hire Sassari, Cheap Car Hire Quartu Sant'Elena, Olbia and Nuoro.
Car rental companies in Alghero, Italy
Avis, Hertz, Europcar, Budget, Sixt, Thrifty, National, Enterprise and Alamo are the companies we compare in the city and in the region to find the best price. You can usually find the largest selection at airports such as Alghero Fertilia Riviera del Corallo Airport and Oristano Fenosu Airport. The large companies usually have offices adjacent to the airport.
Car Hire & Rent a Car Alghero Customer Feedback & Reviews