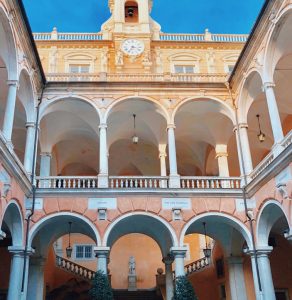 Easy and safe online booking for rental cars. Search for a city, airport etc. and choose a pick up location. The search will look for all types of models. Rental cars are available at Genoa's travel centre, train stations (Stazione Genova Brignole (RFI), Stazione Genova Piazza Manin (FGC), Stazione Genova Porta Principe (RFI), Genova Piazza Principe, Stazione Genova Sampierdarena and Stazione Genova Sampierdarena (RFI)) and airports like Genoa Cristoforo Colombo Airport and Villanova Albenga Airport, GOA and ferry terminals and ports (Port de Gênes, Marina Porto Antico, Porto Antico and Genoa Ferry Port). Car hire where every cost is included, no hidden fees and free cancellations/amendments up to 24 hours before you pick up the car.
Compare rental cars and renting of a vehicle from several companies in the city, Genoa in Italy. We compare large companies as well as small and find the best price for all types of cars. When you are looking for rental cars we compare these companies; Major Amico Blu on Corso Sardegna 275, Europcar Via Casaregis on Via Casaregis 42 1, Galdieri Rent on Via Cipro 46, Hertz Porto Traghetti Piazzale Iqbal Masih on Piazzale Dei Traghetti Iqbal Masih, Maggiore Rent on Corso Sardegna 275r, Thrifty on Piazzale Iqbal Masih, Hertz on Via Eugenio Ruspoli 1r, Morini Rent on Via Paolo Boselli 4r, Eurorent on Via Milano 71, Hertz on Cruises & Ferries Piazzale Iqbal Masih C O Terminal, Noleggiare on Via Alessandro Rimassa 47, all with offices on site or in Liguria.
Genoa (Genova, Genès) is a city in the municipality, Provincia di Genova, Liguria region, Italy. It is the county seat in the region. 1th largest city/town when it comes to inhabitants in the region and the 6th largest district/town in Italy. The city had c. 580 200 inhabitants at the end of 2015. Solaro, Varazze, Lavagna, Arenzano, Loano, Recco, Albisola Superiore, San Fruttuoso, Marassi, Albaro and San Martino are smaller suburbs, villages and communities nearby. Read more about what the city has to offer when it comes to experiences and which companies are located in Italy and Provincia di Genova. The community and town is about 19 meters above sea level. Alessandria (c. 64200 pop), Savona (c. 58300 pop), Voghera (c. 36100 pop) and Rapallo (c. 27000 pop) are other larger communities, cities nearby. We also give tips on which companies offer rental cars in Provincia di Genova.
Suggestions on attractions, museums, activities, events, experiences, places and destinations that are worth a visit during your trip to the city Genoa. A day at the museums and art galleries of the city? These are located in the central parts of the city at Doge's Palace, Palazzo Bianco, Museum of Strada Nuova, Museo Civico di Storia Naturale Giacomo Doria, Museo Americanistico Federico Lunardi, Museum of Saint Agostino, Palazzo Rosso, Museo d'Arte Contemporanea di Villa Croce, Palazzo Doria-Tursi and Museum of Tesoro di San Lorenzo. Bigo, Torre degli Embriaci, Monument of Cristoforo Colombo and Monument of Garibaldi are monuments and statues of fascinating historical events and individuals. Notable squares or large open spaces that are close by, Piazza della Nunziata, Piazza Corvetto, Piazza de Ferrari and Piazza Giacomo Matteotti. Palazzo Imperiale, Pantaleo Spinola Palace, Villa Rossi Martini, Palazzo Doria-Spinola, Palazzo San Giorgio, Palazzo Durazzo Pallavicini, Palazzo Podestà, Palazzo Grimaldi della Meridiana and Palazzo Balbi Senarega are exciting, older, magnificent buildings such as mansions and palaces nearby. Fort of Sperone a Genova, Forte Begato and Fort of San Martino are fascinating old forts, strongholds and fortresses and are located in the city.
Amusements parks, water parks and theme parks in and surrounding the city are Città dei Bambini. Biosfera and Aquarium of Genoa (Acquario di Genova) are aquariums, safari parks, zoos, tropicariums, tropical houses and terrariums close to the city. Bagni Oasis and Spiaggia di Vernazzola are beaches nearby if you want to relax and bask in the sun for a couple of days. Watching sports or exercising? Athletic fields close to the city are Campo Atletica Leggera Villa Gentile, Tennis Club Le Palme and Campo da Calcio. To watch and experience football, sports and concerts etc. you can visit Stadium Comunale Luigi Ferraris. Why not visit Theater Stabile, Theater Rina e Gilberto Govi, Carignano, Theater G.A.G, Centro Theater Ipotesi Associazione Culturale and Theater Verdi to experience and see music, plays and shows nearby Genoa.
Fascinating parks and gardens in the central parts of the city are Giardini Carlo Alberto Dalla Chiesa, Giardini Tito Rosina, Giardini Mariagrazia Casazza and Giardini Giovanni Paolo II. Parks, green areas and plantings worth visiting for recreation and relaxing are Giardini Rusca, Villa Quartara, Parchi di Nervi and Park Villa Groppallo. Porta Soprana are old arches and arcs that could be worth seeing during your visit. Do you want to do some shopping? The large malls in the city are e.g. IKEA Genova. Beautiful churches or cathedrals not far away are Church of Gesù e dei Santi Ambrogio e Andrea, San Giacomo, Abbey of San Matteo and San Lorenzo.
Car hire in airports nearby
Car hire in airports nearby: Car Rental Genoa-Sestri Airport and Albenga Riviera Airport.
Car rental companies in Genoa, Italy
When you are looking for rental cars we compare these companies Green Motion, Ecovia, OS Car Rental, Avant Car, Payless, Italy Car Rent, Nomadcar, Elba by Car, Autovia, Budget, WinRent, Welcome Cars, CarMotion, Alamo, Enterprise, Target Rent, Noleggiare, Flizzr, B-Rent, JoyRent, InterRent, Avis, Sicily By Car, Dollar, Maggiore, Hertz, Thrifty, Goldcar, Locauto, Rhodium, King rent, Keddy By Europcar, MoriniRent, Global Rent a Car, Centauro, Viten Group, Ace Rental Cars, Autoclick, Surprice, Optimorent, Sixt, National, Firefly, Buchbinder, Oscar Rent A Car, Hertz Dream Collection, Europcar and Smile Rent. You can usually find the largest selection at airports such as Genoa Cristoforo Colombo Airport and Villanova d'Albenga Clemente Panero Airport. The large companies usually have offices adjacent to the airport.
Car Hire & Rent a Car Genoa Customer Reviews & Feedback