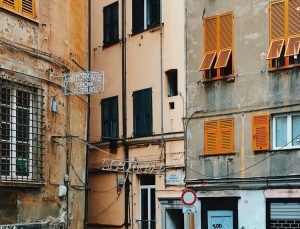 Rent a car where every cost is included, no hidden fees and free cancellations/amendments up to 24 hours before you are supposed to pick up the car. Easy and safe online booking of rental cars. Search for rental cars that you pick up directly at Genoa Airport. Our search box looks for all pick up locations nearby.
Large or small company? Even if you want a large company it could be worthwhile to compare the small one´s first. Local companies can offer very good prices in some places. At our website you can compare prices on rental cars and car hires from several companies at Genoa Airport, Genoa, Italy. Find the best prices for rental cars online. Closest cities are Genoa 8 km, Pedemonte 11 km, Serra Riccò 13 km, Arenzano 13 km and Cogoleto 16 km. Autoitaly.co.uk only lists prices from companies that are safe and quality assured so that there will not be any problems when you arrive. Airport code is IATA: GOA and ICAO: LIMJ. Compare car rentals for a week, one month, one day, as many days as you wish, long-term, weekend or a year. When you are looking for rental cars, compare these companies Hertz on Via Pionieri e Aviatori Ditalia 1, Budget on Via Pionieri e Aviatori Ditalia 44, ACE on Via Pioniere e Aviatori Dltalia, Maggiore on Via Pionieri e Aviatori Ditalia 44, Win Rent on Via Pionieri e Aviatori Ditalia 44, Maggiore, Autoeuropa on Via Pionieri e Aviatori Ditalia 44, Thrifty Ap on Apt C Colombo, Sicily By Car on Via Pionieri e Aviatori Ditalia 44, Firefly on Via Pionieri e Aviatori Ditalia 44, Europcar on Via Pionieri e Aviatori Ditalia 44, Sixt on Sala, Sixt on Via Pionieri e Aviatori Ditalia 1, Avis, Locauto on Via Pionieri e Aviatori Ditalia 44, Avis on Via Pionieri e Aviatori Ditalia at autoitaly.co.uk, all with offices in Italy. It is possible to rent a car for one way, this is called a one way rental. You collect the car in one place and return it somewhere else, e.g. another city or country. Economy, 9 seat minivan, minibus, cargo van, 5 seat minivan, moped, suv, jeep, intermediate, minivan, fullsize, compact, standard, estate, mini, premium, convertible, luxury, 7 seat minivan and automatic transmission cars are car types and models that autoitaly.co.uk can compare prices on.
Facts, information and data about Genoa Airport (Genoa Airport). The airport is in the municipality of Provincia di Genova, in the Liguria region, in Italy. The airports Villanova Albenga Airport are also nearby. Genoa 8 km (c. 580200 pop), La Spezia 85 km (c. 88500 pop), Pavia 90 km (c. 65700 pop), Alessandria 58 km (c. 64200 pop) and Asti 74 km (c. 61300 pop) are the closest big cities. Alternative names for the airport are Aeroporto di Genova, Genoa Airport, Genoa Cristoforo Colombo Airport, International. The airport is located above sea level by 13 feet/4 meters. Hotels and lodging that are close to the airport are Sheraton Genova Hotel, Best Western Premier Chc Airport Genova, Tower Genova Airport Hotel & Conference Center and Tower Genova Airport and Confe, if you need somewhere to sleep on your journey there or home. They are all within 3 km. If you arrive, or will continue travelling by train, closest train stations are Stazione Genova Sestri Ponente, Stazione Genova Cornigliano, Stazione Genova Sampierdarena (RFI) and Stazione Genova Sampierdarena. They are all within 4 km. More information on where you pick up or return your rental car can be found on your order/ voucher information after you made your reservation. All companies have their own offices where you pick up keys etc. Are you planning to, or are you flying to/from, and will be using Genoa Airport on your holiday or trip? Here you can find information, maps, weather, contact information and airport information. Tax-free shopping? In the airport and nearby are e.g. IKEA Genova. They are only a walk from the terminal.
Car hire companies and car rental at Genoa Cristoforo Colombo Airport (GOA), Italy
Sixt, Keddy By Europcar, Locauto, Thrifty, Green Motion, Dollar, Avis, OS Car Rental, Oscar Rent A Car, MoriniRent, Payless, Smile Rent, Alamo, Hertz Dream Collection, Welcome Cars, JoyRent, Global Rent a Car, Autovia, Italy Car Rent, Firefly, King rent, Elba by Car, Hertz, CarMotion, Buchbinder, Noleggiare, Europcar, Autoclick, National, Rhodium, Budget, Centauro, B-Rent, Optimorent, Avant Car, InterRent, Ecovia, Viten Group, WinRent, Target Rent, Surprice, Maggiore, Enterprise, Sicily By Car, Nomadcar, Flizzr, Ace Rental Cars and Goldcar are the companies we compare at the airport to find the best price.
Car Hire & Rent a Car Genoa Cristoforo Colombo Airport Customer Reviews & Feedback