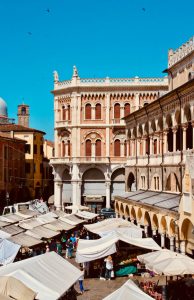 Compare rental cars and renting of a vehicle from several companies in the town, Padova in Italy. We compare large companies as well as small and find the best price for all types of cars.
We have an easy and safe online booking of rental cars. Car hire where every cost is included, no hidden fees and free cancellations/amendments up to 24 hours before you are supposed to pick up the car. Search and choose destination, search for country, city etc. and choose from the list. Rental cars at Padova's train stations (Padova Railway Station, Busa di Vigonza, Vigonza Pianiga and Stazione di Terme Euganee – Abano – Montegrotto) travel centre and airports like Vicenza Airport, Treviso-Sant'Angelo Airport and Venice Marco Polo Airport, QPA. We compare these companies in this city or in; Veneto, Hertz on Ikea Via Sergio Fraccalanza 5, Budget on Via Annibale da Bassano 27a, Maggiore on Via Fra G Eremitano 8, Avis on Via Annibale da Bassano 27a, Hertz on Via Annibale da Bassano 31a, Locauto on Via Fra G Eremitano 8, Europcar on Piazzale Della Stazione 6 Iv C O Garage Stazione, Hertz on Via Annibale da Bassano 31, Win Rent on Piazzale Stazione 6.
Information about the town Padova (Padua, Padoue, Padoa), located in Padua, Veneto region, Italy. It is the central city in the area. 2th largest city/district when it comes to inhabitants in the region and the 13th largest town/community in Italy. With about 203 700 (2015) inhabitants. The community and town is about 12 meters above sea level. Smaller communities, villages and suburbs nearby are Taglio, Cittadella, Bovolone, Vigonza, Porto Viro, Piove di Sacco, Ponte di Brenta, Volta Barozzo, Calore and Cadoneghe. Whether you are visiting the town Padova just for one day or for a longer period, there is plenty to do. Read more further down. Other larger cities/communities nearby are Mestre (c. 147700 pop), Vicenza (c. 107100 pop), Treviso (c. 77600 pop) and Venice (c. 51300 pop). Bus stations and bus stops in the city are Padova bus station. Learn more about which companies are located in the country.
Are you staying for a long time in Padova? Some suggestions and tips on museums, activities, events, attractions, experiences, destinations and places that are worth a visit during your trip to the town. Chiostro del Generale, Botanical Garden Padua, Giardini dell'Arena and Chiostro del noviziato are located within a walking distance if you want to enjoy and experience a botanical garden. Roseto di Santa Giustina, Giardini dell'Arena, Giardino Treves and Park Iris are located in the town if you want to experience beautiful and interesting parks and gardens. Exciting antiquities, cultural heritage, ancient relics and older buildings that could be worth seeing are Anfiteatro Romano Padova. Are you planning a wine tour and tasting in Italy? Cantina La Mincana-Dal Martello and Mazzucato Romeo are vineyards and wine producers close by.
In the city, there are interesting monuments and statues of famous people and events like Memoria e Luce and Monumento Equestre al Gattamelata. Beautiful vast open spaces or squares close by are Piazza delle Erbe, Prato della Valle, Piazza della Frutta, Piazza Duomo and Piazza del Santo. Golf Club della Montecchia 10 km are golf courses located close to the community. Do you want to play some golf or are planning a golf trip? Visit Theater Stabile del Veneto, Ghiro Studio d'Arte and Gran Theater Geox to see and experience plays, music and shows in the town centre. Palazzo Zuckermann, Museum of Risorgimento, Museo al Santo, Palace of Salute, Museum of Storia della Fisica, Museo Antoniano, MUSME – Museum of Storia della Medicina, Museum of Geologia e Paleontologia and Musei Civici are located close to the town centre. A day at the museums and art galleries of Padova?
Notable churches or cathedrals are Basilica of San Antonio, Church of Eremitani, Parrocchia Santa Maria del Carmine and Church of Santa Maria dei Servi which are close by. Parco Padovaland are water parks, amusement parks or theme parks nearby. If you are craving for activities and experiences with your children. Arco Vallaresso are old arches and arcs that could be worth seeing during your visit. Do you want to do some shopping? The large malls in the city are e.g. Centro Commerciale Prisma, Centro Commerciale La Corte, Centro Commerciale Di Abano, Le Brentelle, Lostech, Centro Commerciale Ipercity and IKEA Padova.
Palazzo Zarabella, Palace of Capodilista, Villa Emo Capodilista, Palazzo Maldura, Palazzo Angeli, Palace of Monte di Pietá, Loggia del Consiglio, Palace of Ragione and Villa Draghi are magnificent and interesting buildings, villas and palaces close to the centre of Padova. Castello di (Castle) San Pelagio are new and old castles that we recommend a visit to and are located in Padova. Close by there are interesting forts, strongholds and fortresses such as, Bastione Alicorno. Watching sports or exercising? Athletic fields close to the city are Tennis Club Padova, Tennis Club Abano and Velodromo Monti. Want to watch a game or sports, maybe go to a concert? Close to the city are Stadium Silvio Appiani and Stadium Euganeo. Maybe see a local game of football? Watch horse racing and harness racing etc. at motor stadiums and race tracks such as Ippodromo V.S. Breda.
Find the best car hire and cheapest car rental in airports nearby
Find the best car hire and cheapest car rental in airports nearby: Compare Rental Cars Bologna Guglielmo Marconi Airport, Compare Hire Cars Verona Villafranca Airport and Hire Cars Vicenza Airport. Cheap Pickup Truck Rentals in Padova.
Car rental companies in Padova, Italy
National, Enterprise, Noleggiare, B-Rent, Sixt, Maggiore, Alamo, OS Car Rental, CarMotion, Centauro, Budget, Elba by Car, Hertz, Target Rent, InterRent, Key and Go, Flizzr, Goldcar, Dollar, Firefly, Viten Group, WinRent, Optimorent, Autoclick, King Rent, Europcar, Surprice, Rhodium, Italy Car Rent, Welcome Cars, Sicily By Car, Buchbinder, Payless, JoyRent, Locauto, Ace, Global, Avant Car, Green Motion, MoriniRent, Ecovia, Keddy By Europcar, Oscar, Smile Rent, Thrifty, Hertz Dream Collection, Autovia, Avis and Nomadcar are the companies we compare in the city/country. You can usually find the largest selection at airports such as Verona Villafranca Valerio Catullo Airport, Vicenza Tommaso Dal Molin Airport, Treviso Sant'Angelo Antonio Canova Airport and Venice-Tessera Marco Polo Airport. The large companies usually have offices adjacent to the airport.
Car Hire & Rent a Car Padova Customer Feedback & Reviews