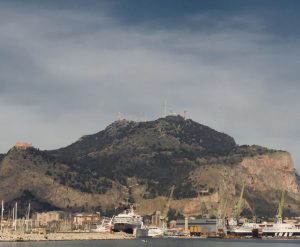 Comparison of rental car prices and car hire from several businesses in the city Palermo in Italy. Find the best prices for rental cars. It always pays off to compare before you book, in some smaller communities local companies can have very competitive prices.
Car hire at Palermo's airports like Palermo Airport and Trapani Airport, PMO, train stations (Palermo Notarbartolo Railway Station, Stazione Palermo Notarbartolo, Stazione Palermo Lolli, Imperatore Federico, Stazione di Palazzo Reale-Orleans and Stazione Palermo Centrale) and travel centres etc and ports/ferry terminals like Porto Sant'Erasmo, Palermo Ferry Port. We can offer a car hire service where every cost is included. There are no hidden fees or free cancellations/amendments up to 24 hours before you are supposed to pick up the car. An easy, straight forward and safe search for car hire online. With our search engine, you only need to write the name of the city, place etc. and you will immediately get a list of choices. Maggiore Amico Blu Stazione Notarbartolo on Via Umberto Giordano 1, Budget Italia on St Fs Notarbartolo Via Umberto Giordano 1, Easy Car on Via Giusti 2, Thrifty on Via Trapani 6, Win Rent on Viale Francia 3, Sicily Porto on Via Francesco Crispi 122, Budget on Via Francesco Crispi 260, Avis on Via Francesco Crispi 260, Hertz on Via Messina 7e, Europcar Notarbartolo Stazione on Piazza Matteo Maria Boiardo, Locauto on Viale Delle Magnolie 33, Sicily By Car Vendita Usato Noleggio Veicoli on Via G Sciuti 83, Stylo on Via Francesco Crispi 94, Sicily By Car Porto on Via Mariano Stabile 6 are the companies we compare in the city and in Sicily to find the best price.
Palermo (Palermu) is a city in the municipality, Province of Palermo, Sicily region, Italy. It is the county seat in the region. 1th largest city/town when it comes to inhabitants in the region and the 5th largest district/town in Italy. Trapani (c. 58700 pop), Bagheria (c. 53000 pop), Alcamo (c. 44400 pop) and Carini (c. 35100 pop) are larger neighbouring communities and cities. Read more about what the city has to offer when it comes to experiences and which companies are located in Province of Palermo and the country. Smaller villages, communities and suburbs nearby are Castellammare del Golfo, Cinisi, Cefalù, Ficarazzi, Corleone, Belmonte Mezzagno, Noce, Poggio Ridente, Boccadifalco and Gaudesi. With a population of around 648 300 people in 2015. Located about 14 m above sea level. We also give tips on which companies offer rental cars in Province of Palermo.
Are you staying for a long time in Palermo? Some suggestions and tips on museums, activities, events, attractions, experiences, destinations and places that are worth a visit during your trip to the city. Castello dell'Emiro and Santa Maria dello Spasimo are interesting ruins of old buildings and objects. Beautiful arcs, arcades and arches to visit during your visit are Porta Nuova and Porta Felice. Visit Theater Orion, Biondo, Theater Politeama Garibaldi, Theater Jolly and Theater Massimo to see and experience plays, music and shows in the town centre. Botanical Garden of Palermo, Palermo Botanical Garden, Villa Bonanno and Garden of Zisa are located within a walking distance if you want to enjoy and experience a botanical garden. Relaxing and beautiful green areas, parks and plantings worth seeing are Park D'orleans, Foro Italico, EcoCampus Casabol and Villa Giulia.
Shopping at a mall? Maybe at Centro Commerciale Poseidon, Portobello – Le Gallerie del Risparmio, Conca D'Oro, Centro Commerciale La Torre and Centro commerciale Forum Palermo! Interesting cathedrals or churches that are close by are Church of Santissimo Salvatore, Chapelle palatine, Church of Santa Cita and San Giuseppe dei Teatini. Velodromo Paolo Borsellino and Ippodromo La Favorita are located within a walking distance if you want to game on horses, in horse racing or harness racing or see motor sports. Manors and palaces worth seeing up close nearby in Palermo, are Palace of ljermo, Palazzo Costantino, Palazzo Marchesi, Camera delle Meravigle, Villa Malfitano, Palace of Poste, Norman Palace, Geraci Palace and Palazzo Fernandez. All within walking distance. Castello di (Castle) Carini and Castello di (Castle) Maredolce are new and old castles that we recommend a visit to and are located in Palermo.
Stadium Renzo Barbera and Stadium delle Palme are located nearby if you want to watch sports or go to a concert. If you crave activities and experiences and want to visit e.g. water parks, amusement parks or theme parks you can visit Bioparco di Sicilia, AcquaPark Monreale and Galileo Park. Parco Monte Catalfano are tropicariums, tropical houses, zoos, aquariums, safari parks and terrariums that are nearby. Want to visit the local markets? Make a stop at Marché Ballaro, Central Market di Lo Monaco Rosario and Market Vucciria. Museum of Costume r. Piraino, Arsenale di Palermo, International Puppet Museum, Castello della (Castle) Zisa, Museo Archeologico Regionale Antonio Salinas, Capuchin Catacombs of Palermo, Palazzo Riso, Castello della (Castle) Cuba and Associazione Stanze al Genio are located close to the town centre. A day at the museums and art galleries of Palermo?
Statues and monuments of interesting historical events and people like Monument to Strage di Capaci, Naturoscopio, Obelisco alle Tredici Vittime, Fountain of Cavallo Marino, Fountain of Genio di Palermo and Obelisco di Gibilrossa. Piazza Ten Oliveri, Piazza Guglielmo II, Piazza Vigliana, Piazza 21 Aprile, Piazza Vittorio Emanuele and Piazza della Regione are notable squares or large open spaces close by in the central parts of town. Villa Airoldi Golf Club 2 km are golf courses located close to the community. Do you want to play some golf or are planning a golf trip? Do you want to relax and find a beach for swimming and sunbathing? Spiaggia Roccella, Spiaggia di Brancaccio and Spiaggia di Mondello are located nearby. Are you interested in history and archaeology? Nearby are interesting places located at Castello Utveggio, Catacombs of Villagrazia di Carini, Quattro Canti, Kalsa and Villa Maggiore Amari. Keen on seeing ancient relics, older buildings, antiquities and cultural heritage? These places, Castello a Mare Archaeological Park, could be worth a visit.
Car hire in airports nearby
Car hire in airports nearby: Rent a Car Palermo Airport and Trapani-Birgi Airport.
Car rental companies in Palermo, Italy
To find the best price, we compare the following companies; Ace Rental Cars, Centauro, King rent, B-Rent, Italy Car Rent, Dollar, Optimorent, Ecovia, Budget, Autovia, Goldcar, Locauto, Oscar Rent A Car, Maggiore, Autoclick, Noleggiare, OS Car Rental, Payless, Buchbinder, Smile Rent, Alamo, Sixt, Keddy By Europcar, Green Motion, Europcar, Firefly, Surprice, Thrifty, Viten Group, Hertz, InterRent, CarMotion, Global Rent a Car, Nomadcar, Avant Car, National, Elba by Car, MoriniRent, Flizzr, Target Rent, WinRent, JoyRent, Sicily By Car, Enterprise, Avis, Welcome Cars, Rhodium and Hertz Dream Collection. You can usually find the largest selection at airports such as Palermo Punta Raisi Falcone Borsellino Airport and Trapani Birgi Vincenzo Florio Airport. The large companies usually have offices adjacent to the airport.
Car Hire & Rent a Car Palermo Customer Reviews & Feedback