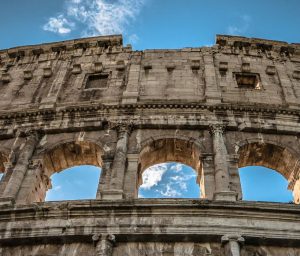 Easy and safe online booking for rental cars. Search for a city, airport etc. and choose a pick up location. The search will look for all types of models. Rental cars are available at Rome's travel centre, train stations (Roma Termini railway station, Stazione Roma San Lorenzo, Stazione Roma Tuscolana, Stazione Roma Prenestina, Roma Tiburtina Railway Station, Roma Ostiense Railway Station and Stazione Roma Porta San Paolo) and airports like Roma Ciampino Airport, Leonardo da Vinci–Fiumicino Airport and Latina Airport, ROM. Car hire where every cost is included, no hidden fees and free cancellations/amendments up to 24 hours before you pick up the car.
We compare large companies as well as small and find the best price for all types of cars. Compare rental cars and renting of a vehicle from several companies in the city, Rome in Italy. We compare these companies in this city or in; Latium, Locauto on Via Giolitti 34 Stazione Fs Termini, Win Rent on Via Giovanni Giolitti 34, Morini Rent Tiburtina on Via Tiburtina 728, Avis on Via Sardegna 38, Maggiore Stazione Tiburtina on Via di Portonaccio 19, Eco Green Car on Via di Gesù e Maria 22, Rent4u on Via di S Costanza 42, Hertz on Circonvallazione Nomentana 532, Autoeuropa on Piazza Dei Cinquecento 26, Maggiore Amico Blu Stadio Olimpico on Via Oslavia 24, Win Rent on Viale del Galoppatoio 33, Travelcar on Viale Castro Pretorio 48, Europcar Dt Via Veneto on Via Sardegna 51, Morini Rent Ostiense on Circonvallazione Ostiense 185, Avis on Via Giovanni Giolitti 26 32, Italyrent on Via Principe Amedeo 2b.
Information about the city Rome (Rom, Roma), located in Province of Rome, Latium region, Italy. The city is the capital of the country. 1th largest city/district when it comes to inhabitants in the region and the 1th largest town/community in Italy. Whether you are visiting the city Rome just for one day or for a longer period, there is plenty to do. Read more further down. Other larger cities/communities nearby are Acilia-Castel Fusano-Ostia Antica (c. 129400 pop), Lido di Ostia (c. 79400 pop) and Latina (c. 76300 pop). About 2 318 900 (2015) inhabitants live in the city. The city is located about 20 meters above sea level. Smaller villages, communities and suburbs nearby are Palestrina, Anguillara, Santa Marinella, Valmontone, Lariano, Ferentino, Bracciano, Lunghezza, Podere Rosa, Settecamini and Torrenova. Nearby metro (subway) stations are Termini, Castro Pretorio, Policlinico, Bologna, Piramide, Garbatella and Flaminio. Get some tips on local companies in Province of Rome.
Suggestions on attractions, museums, activities, events, experiences, places and destinations that are worth a visit during your trip to the city Rome. In the city, there are interesting monuments and statues of famous people and events like Obelisco Lateranense, Fountain of Viminale, Fountain of Fori Imperiali, Obelisco di Dogali and Statue of Re Carlo Alberto. Notable squares or large open spaces that are close by, Piazzale Numa Pompilio, Piazzale Appio, Piazza di San Giovanni in Laterano, Piazza della Repubblica and Piazzale della Minerva. Fascinating parks and gardens in the central parts of the city are Gardens of Montecavallo, Garden of Aranci, Villa Balestra and Orto Botanico. Orti Farnesiani sul Palatino, Park Celio, Park Colle Oppio and Villa Wolkonsky are located in the city if you want to experience beautiful and interesting parks and gardens. Golf trip and need to rent a car? Golf Parco de' Medici 12 km, Parco di Roma Golf Club 9 km, Marco Simone Golf & Country Club 13 km and Circolo del Golf di Roma 5 km are some golf courses that are close to the community.
Sognolabio, Aquapiper, Il Fantastico Mondo del Fantastico, Erawan and Eurpark Adventure are theme parks, water parks or amusement parks nearby. If you are looking for experiences and activities for the family. Tropical houses, tropicariums, zoos, safari parks, aquariums, and terrariums in the surrounding area of the city are Giardino Zoologico and Bioparco. Want to look at some exotic animals? Watch horse racing and harness racing etc. at motor stadiums and race tracks such as Ippodromo Tor di Valle, Capannelle Racecourse and Ippodromo Capannelle. Look at old historical ruins like Hostilian Court, Casale Tor Sant'Antonio, Rostra, Basilica of Maxentius and Basilica Julia. Beautiful arcs, arcades and arches to see are Porta San Giovanni, Arch of Titus, Arch of Constantine, Arco di Druso and Porta Latina. Auditorium Parco della Musica and Coliseum, these amphitheatres are located close to the centre of Rome. Music, plays and shows in the town centre? We recommend Theater Valle, Theater Orione, Theater Cassiopea, Theater Cometa and Theater Argentina. Located within walking distance.
Malls like IKEA Roma Anagnina, Centro Commerciale Carrefour di Torvergata, Via Borgognona, Centro Commerciale Roma Est, Centro Commerciale Petrocelli, Roma Est, Centro Commerciale I Granai and Centro Commerciale Anagnina are close by if you want to do some shopping. See the town's team play or practice? Close to the city, the Piazza di Siena, Piscina delle Rose, Tennis Club New Country, Stadio dei Marmi and Circolo Tennis Valentini is located. Close to the town centre, the Stadium Olimpico, Foro Italico, Palalottomatica, Stadium Flaminio and Olympic stadium's are located. See the different teams in town play or are you craving some football? Or want to see a concert? Wineries and wine producers that are close to Rome are, for example, Cantine San Marco, if you are planning a wine tour and tasting in Italy. Santa Croce in Gerusalemme, Basilica of St. John Lateran, Basilique Saint-Clément-du-Latran and St. Praxedes basilica are notable churches or cathedrals close by.
Terrace of Pincio, Ghetto, Temple of Asclepius and Tempietto are close by if you are interested in the exciting history and archaeology of the area. Ancient relics, cultural heritage, antiquities and older buildings close to Rome are located at Baths of Titus, Baths of Trajan, Anfiteatro Castrense, Nerone Aqueduct, Temple of Venus and Rome, Mura Aureliane, Domus Aurea, Ludus Magnus and Palatino. Museums and art galleries in Rome that could be interesting are Casa dell'Architettura, Palazzo Nuovo, National Museum of Palazzo Massimo, National Museum of Strumenti Musicali, Galleria Barberini, Baths of Diocleziano, Museum of Palazzo Massimo alle Terme, Roma, Antiquarium Comunale Antiquarium del Celio and Museo Centrale del Risorgimento. Older and fascinating buildings such as villas, manors and palaces close to the town centre are Palace of Esposizioni, Palazzo Colonna, Palazzo Doria Pamphilj, Palace of Consulta, Scuderie del Quirinale, Quirinal Palace, Palazzo Senatorio, Palazzo Barberini and Palazzo Venezia. Want to look at the domiciles of the city's old rulers? Exciting castles such as, Castello di (Castle) Lunghezza and Castel Sant'Angelo are located close to Rome.
Car hire in airports nearby
Car hire in airports nearby: Car Hire Rome Fiumicino Airport, Rome Ciampino Airport and Latina Airport.
Car rental companies in Rome, Italy
We compare these companies in Rome or in the region, B-Rent, Autoclick, CarMotion, Flizzr, Avis, Ace Rental Cars, Sicily By Car, Smile Rent, Viten Group, InterRent, Rhodium, Noleggiare, Elba by Car, Nomadcar, Hertz Dream Collection, Surprice, National, Centauro, OS Car Rental, Payless, Ecovia, Maggiore, Target Rent, Firefly, Sixt, Dollar, MoriniRent, Buchbinder, Italy Car Rent, Autovia, JoyRent, Budget, Global Rent a Car, Optimorent, Locauto, Europcar, Goldcar, Alamo, Keddy By Europcar, Oscar Rent A Car, Avant Car, Green Motion, Welcome Cars, WinRent, King rent, Hertz, Enterprise and Thrifty. You can usually find the largest selection at airports such as Rome Fiumicino Leonardo da Vinci Airport, Rome Ciampino Giovan Battista Pastine Airport and Latina Airport. The large companies usually have offices adjacent to the airport.
Car Hire & Rent a Car Rome Customer Reviews & Feedback