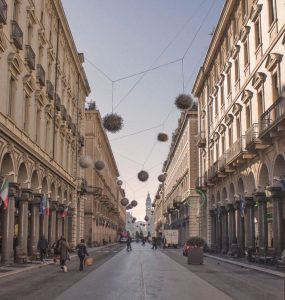 Comparison of rental car prices and car hire from several businesses in the city Turin in Italy. Find the best prices for rental cars. It always pays off to compare before you book, in some smaller communities local companies can have very competitive prices.
Rental cars are available at Turin's travel centre, train stations (Torino Porta Nuova railway station, Torino Porta Susa Railway Station, Stazione Torino Vanchiglia, Stazione Torino Dora, Stazione Torino Smistamento, Stazione Torino Lingotto and Stazione Torino Stura) and airports like Turin Caselle Airport, Cuneo International Airport and Aosta Airport, TRN. A car hire service where every cost is included, no hidden fees and free cancellations/amendments up to 24 hours before you pick up the car. Easy and safe online booking of rental cars. Search for a city, airport etc. and choose a pick up place. Avis on Via Giusti 1, Gp Rent on 8 e Via Vochieri Andrea To 10138, Hertz Stazione Porta Susa on Stazione Porta Susa Corso Bolzano 14i, Maggiora on Lungo Stura Lazio 129 5, Win Rent on Via Mongrando 48, Morini & Vans on Via Carlo Boncompagni 3a, Blu Car on Via Broni 7, Maggiore Corso Rosselli on Corso Carlo e Nello Rosselli 238, Europcar on Via Madama Cristina 72 D, Sicily By Car Città on Via Nizza 294, Locat Rent on Via Chisola 1, Hertz on Strada Vicinale Della Campagna 183, Hertz on Stazione Porta Nuova Corso Filippo Turati 37, Locat Rent on Via Nizza 150, Budget on Via Giusti 1, Europcar on Via Madama Cristina Via Michelangelo Buonarroti 72, Stylo on Corso Francia 4 Bis, Win Rent on Corso Bolzano 14 E are the companies we compare in Turin/Italy.
About the city Turin (Torino), located in the Province of Turin part, Piedmont region, Italy. It is the county seat in the region. 1th largest town/city when it comes to inhabitants in the region and the 4th largest town/district in Italy. The population of the city is about 870 500 in 2015. Whether you are visiting the city Turin just for one day or for a longer period, there is plenty to do. Read more further down. Located about 239 m above sea level. Other larger cities/communities nearby are Asti (c. 61300 pop), Moncalieri (c. 49200 pop) and Nichelino (c. 47600 pop). Volpiano, Leinì, Pianezza, Caselle Torinese, Giaveno, Barriera di Stura, Abbadia di Stura, Pian del Lot and Ceronda are smaller suburbs, villages and communities nearby. Learn more about which companies are located in the country.
Tips and suggestions on places, events, activities, museums, attractions, experiences and tips on destinations you can visit during your stay in Turin, can be found here. Amusements parks, water parks and theme parks in and surrounding the city are Acquajoy and Parco Avventura Tre Querce. Central race tracks and motor stadiums for horse racing and harness racing etc. are Motovelodromo Fausto Coppi and Ippodromo di Vinovo. Giardino Nicola Grosa, Giardino Ginzburg, Aiuola Cavour and Giardino Caserma Lamarmora are located within a walking distance if you want to enjoy and experience a botanical garden. Fascinating and fine plantings, green areas and parks that are located in the city are Area giochi del Park dell'Arrivore, Park Valentino, Park Colletta and Park Pellerina.
Find the best car hire and cheapest car rental in airports nearby
Find the best car hire and cheapest car rental in airports nearby: Cheapest Car Hire Milan Malpensa Airport, Cheapest Hire Cars Turin Caselle Airport and Cheap car rental Cuneo International Airport. Cheap SUV Rentals in Turin.
Car rental companies in Turin, Italy
Elba by Car, Payless, Keddy By Europcar, Viten Group, Oscar, Sicily By Car, Autovia, Avis, Global, Avant Car, King Rent, Welcome Cars, Optimorent, Thrifty, Buchbinder, National, InterRent, Italy Car Rent, Ecovia, Sixt, Europcar, Ace, Locauto, Target Rent, Goldcar, Enterprise, Noleggiare, Dollar, Firefly, Smile Rent, Key and Go, Flizzr, Surprice, Green Motion, JoyRent, Hertz Dream Collection, OS Car Rental, WinRent, Rhodium, CarMotion, Nomadcar, Maggiore, Hertz, Centauro, Alamo, B-Rent, Autoclick, Budget and MoriniRent are the companies we compare in the city and in the region to find the best price. You can usually find the largest selection at airports such as Turin Caselle Sandro Pertini Airport, Cuneo Levaldigi Turin Airport and Aosta Corrado Gex Airport. The large companies usually have offices adjacent to the airport.
Car Hire & Rent a Car Turin Customer Feedback & Reviews