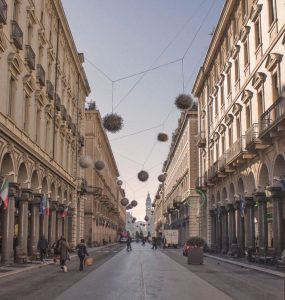 Comparison of rental car prices and car hire from several businesses in the city Turin in Italy. Find the best prices for rental cars. It always pays off to compare before you book, in some smaller communities local companies can have very competitive prices.
Rental cars are available at Turin's travel centre, train stations (Torino Porta Nuova railway station, Torino Porta Susa Railway Station, Stazione Torino Vanchiglia, Stazione Torino Dora, Stazione Torino Smistamento, Stazione Torino Lingotto and Stazione Torino Stura) and airports like Turin Caselle Airport, Cuneo International Airport and Aosta Airport, TRN. A car hire service where every cost is included, no hidden fees and free cancellations/amendments up to 24 hours before you pick up the car. Easy and safe online booking of rental cars. Search for a city, airport etc. and choose a pick up place. Avis on Via Giusti 1, Gp Rent on 8 e Via Vochieri Andrea To 10138, Hertz Stazione Porta Susa on Stazione Porta Susa Corso Bolzano 14i, Maggiora on Lungo Stura Lazio 129 5, Win Rent on Via Mongrando 48, Morini & Vans on Via Carlo Boncompagni 3a, Blu Car on Via Broni 7, Maggiore Corso Rosselli on Corso Carlo e Nello Rosselli 238, Europcar on Via Madama Cristina 72 D, Sicily By Car Città on Via Nizza 294, Locat Rent on Via Chisola 1, Hertz on Strada Vicinale Della Campagna 183, Hertz on Stazione Porta Nuova Corso Filippo Turati 37, Locat Rent on Via Nizza 150, Budget on Via Giusti 1, Europcar on Via Madama Cristina Via Michelangelo Buonarroti 72, Stylo on Corso Francia 4 Bis, Win Rent on Corso Bolzano 14 E are the companies we compare in Turin/Italy.
About the city Turin (Torino), located in the Province of Turin part, Piedmont region, Italy. It is the county seat in the region. 1th largest town/city when it comes to inhabitants in the region and the 4th largest town/district in Italy. The population of the city is about 870 500 in 2015. Whether you are visiting the city Turin just for one day or for a longer period, there is plenty to do. Read more further down. Located about 239 m above sea level. Other larger cities/communities nearby are Asti (c. 61300 pop), Moncalieri (c. 49200 pop) and Nichelino (c. 47600 pop). Volpiano, Leinì, Pianezza, Caselle Torinese, Giaveno, Barriera di Stura, Abbadia di Stura, Pian del Lot and Ceronda are smaller suburbs, villages and communities nearby. Learn more about which companies are located in the country.
Tips and suggestions on places, events, activities, museums, attractions, experiences and tips on destinations you can visit during your stay in Turin, can be found here. Amusements parks, water parks and theme parks in and surrounding the city are Acquajoy and Parco Avventura Tre Querce. Central race tracks and motor stadiums for horse racing and harness racing etc. are Motovelodromo Fausto Coppi and Ippodromo di Vinovo. Giardino Nicola Grosa, Giardino Ginzburg, Aiuola Cavour and Giardino Caserma Lamarmora are located within a walking distance if you want to enjoy and experience a botanical garden. Fascinating and fine plantings, green areas and parks that are located in the city are Area giochi del Park dell'Arrivore, Park Valentino, Park Colletta and Park Pellerina.
Museum of Antichità di Torino, National Museum of Risorgimento Italiano, Palazzo Bricherasio, Armeria Reale, National Museum of Cinema, Galleria Umberto, Museo Egizio, Regional Museum of scienze naturali and Museum of Risparmio are located close to the town centre. A day at the museums and art galleries of Turin? Want to spend a day shopping? Centro-commerciale I Portici, Centro Commerciale Auchan Venaria, Centro Commerciale Parco Dora, Centro Commerciale Il Gialdo, Il Gigante, Shopville Le Gru, IKEA Torino, La Certosa Centro Commerciale and Centro Commerciale Auchan Torino are located within walking distance. Beautiful churches or cathedrals not far away are Duomo di (Cathedral) San Giovanni, San Filippo Neri, Church of San Lorenzo and Chiesa Cattolica Non Parrocchiale Confraternita di S. Rocco. Golf trip and need to rent a car? Golf Club I Ciliegi 10 km, Golf Druento 10 km and Golf Club Stupinigi 7 km are some golf courses that are close to the community.
Famous and interesting palaces, villas and mansions in the city are Palazzo Occelli, Palazzo Saluzzo Paesana, Villa della Regina, Palazzo Chiablese, Reggia di Venaria, Palazzo Falletti di Barolo, Castello del (Castle) Valentino, Palazzo Carignano and Villa Moglia. In the town centre there are new as well as old interesting castles to look at, such as Castello di (Castle) Moncalieri, Castello della (Castle) Mandria, Castello di (Castle) Nichelino, Castello Provana, Borgo Medievale and Castello Saffarone. Fortress of Settimo are fascinating old forts, strongholds and fortresses and are located in the city. Statues and monuments of interesting historical events and people like Monumento all'Alfiere dell'Esercito Sardo, Monument to Caduti del Frejus, Monument to Conte Verde, Fontana Angelica and Mausoleum of Bela Rosin. Piazza Vittorio Veneto, Piazza Savoia, Piazza Castello, Piazza San Carlo, Piazza Solferino and Piazza Carlo Felice are notable squares or large open spaces close by in the central parts of town. Beautiful arcs, arcades and arches to see are Arco Charles Emmanuel I – Emmanuel Philibert of Savoy. Watching sports or exercising? Athletic fields close to the city are Campo Sportivo Salvatore Allende. Juventus Stadium, Palazzetto le Cupole, Stadium Olimpico Grande Torino and Stadium Primo Nebiolo are located nearby if you want to watch sports or go to a concert.
Archaeological area of Teatro Romano have fascinating antiquities, older buildings, ancient relics and cultural heritage near the city. Do your shopping and make some bargains at Market Porta Palazzo, these are markets that are close by and well worth a visit. Close to the town centre are Teatro Regio if you are in the mood to listen and experience opera and music! Anfiteatro Romano Torino, are well worth a visit to experience culture at an amphitheatre nearby the town centre. Music, plays and shows in the town centre? We recommend Theater Alfieri, Casa del Theater Ragazzi e Giovani, Theater Matteotti, Palatenda Erminio Macario, Theater Araldo, Conservatorio di Torino, Mazda Palace, Theater Carignano and Theater le Serre. Located within walking distance.
Car hire in airports nearby
Car hire in airports nearby: Car Rental Turin Caselle Airport, Cuneo International Airport and Aosta Airport.
Car rental companies in Turin, Italy
Green Motion, Ecovia, OS Car Rental, Avant Car, Payless, Italy Car Rent, Nomadcar, Elba by Car, Autovia, Budget, WinRent, Welcome Cars, CarMotion, Alamo, Enterprise, Target Rent, Noleggiare, Flizzr, B-Rent, JoyRent, InterRent, Avis, Sicily By Car, Dollar, Maggiore, Hertz, Thrifty, Goldcar, Locauto, Rhodium, King rent, Keddy By Europcar, MoriniRent, Global Rent a Car, Centauro, Viten Group, Ace Rental Cars, Autoclick, Surprice, Optimorent, Sixt, National, Firefly, Buchbinder, Oscar Rent A Car, Hertz Dream Collection, Europcar and Smile Rent are the companies we compare in the city and in the region to find the best price. You can usually find the largest selection at airports such as Turin Caselle Sandro Pertini Airport, Cuneo Levaldigi Turin Airport and Aosta Corrado Gex Airport. The large companies usually have offices adjacent to the airport.
Car Hire & Rent a Car Turin Customer Reviews & Feedback