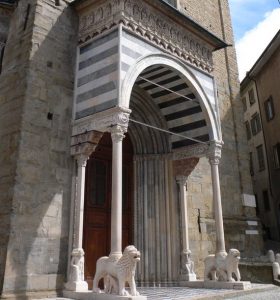 Easy and safe online booking for rental cars. Search for a city, airport etc. and choose a pick up location. The search will look for all types of models. Rental cars are available at Bergamo's travel centre, train stations (Stazione di Bergamo and Montello Gorlago station) and airports like Il Caravaggio International Airport, Milan Linate Airport and Brescia-Montichiari Airport. Car hire where every cost is included, no hidden fees and free cancellations/amendments up to 24 hours before you pick up the car.
We compare large companies as well as small and find the best price for all types of cars. Compare rental cars and renting of a vehicle from several companies in the town, Bergamo in Italy. Morini Rent on Via Pietro Spino 10, Avis on Via 68 Curno, Europcar Aeroporto on Via Aeroporto 13 C O Aeroporto, Avis, Sicily By Car on Via Orio Al Serio 13 Orio Al Serio, Car4hires Airport on Via Guglielmo Dalzano, Hertz Aeroporto on Via Aeroporto 13, Swisscar on Via Alfredo Piatti 1, Europcar Città on Via San Bernardino Nr 133, Maggiore on Via Aeroporto 13 Orio Al Serio, Maggiore Amico Blu on Via 68 Curno, Swisscar on Via Aeroporto 5 Orio Al Serio, Swisscar Senza Carta di Credito on Via Borgo Palazzo 99, Firefly on Orio Al Serio Terminal Building, Europcar Italia on Via Aeroporto 1 Orio Al Serio, Sixt on Sala, Interrent Airport on Via Aeroporto 13 Orio Al Serio, Rent Maggiore on Via 68 Curno are the companies we compare in the city/country.
About the town Bergamo, located in the Provincia di Bergamo part, Lombardy region, Italy. It is the central city in the area. 4th largest town/city when it comes to inhabitants in the region and the 32th largest town/district in Italy. Smaller villages, communities and suburbs nearby are Settimo Milanese, Darfo Boario Terme, Concorezzo, Gussago, Agrate Brianza, Portico Caleppio, Martinella, Sombreno and Rosciano. Are you planning to stay for a long period and spend your holiday here? Then there are many things to do and experience. The population of the town is about 114 200 in 2015. Milan (c. 1236800 pop), Brescia (c. 184800 pop) and Monza (c. 119600 pop) are larger neighbouring communities and cities. The community/city is located about 249 MASL. Centrally located are car rental companies like Goldcar on Via Aeroporto 13 Orio Al Serio, Budget on Aeroporto, Win Rent on Via Aeroporto 13 Orio Al Serio, Green Motion Airport on Via G Galilei 2 Orio Al Serio, Hertz Via Ghandi 28 on Via Gandhi 28, Arcadia Rent on Via G Galilei 2 Orio Al Serio, Joyrent on Via Aeroporto Orio Al Serio, Hertz on Via Aeroporto 13 Orio Al Serio, Maggiore Amico Blu Orio Al Serio on Aeroporto, Firefly on Via Aeroporto 13, Locauto on Via Aeroporto 13 Orio Al Serio, Joyrent on Via Emilia 25 Azzano San Paolo, Europcar on Via Orio Al Serio 13 Orio Al Serio, Ecovia on Via Aeroporto 13 Orio Al Serio etc. We also give tips on which companies offer rental cars in Provincia di Bergamo.
Tips and suggestions on places, events, activities, museums, attractions, experiences and tips on destinations you can visit during your stay in Bergamo, can be found here. Are you interested in history and archaeology? Nearby are interesting places located at Venetian Walls, Cannoniera di San Giovanni and Foolball field of old town. If you are travelling with children and want to visit an amusement park, water park or theme park, you have these options; Acquadream, Minitalia-Leolandia and Kartodromo Orobico. Are you looking for aquariums, tropical houses, safari parks, tropicariums, zoos, and terrariums nearby? Parco Faunistico Le Cornelle might be worth a visit. Statues and monuments of interesting historical events and people like Monument of Francesco Nullo, Fountain of Fiera, Monument of Vittorio Emanuele II and Monument to Fratelli Calvi. Piazza Bolognini, Piazza Guglielmo Marconi, Piazza Vecchia and Piazza Papa Giovanni Xxiii are notable squares or large open spaces close by in the central parts of town.
Find the best car hire and cheapest car rental in airports nearby
Find the best car hire and cheapest car rental in airports nearby: Cheap Hire Cars Milan Malpensa Airport, Car Hire Milan Linate Airport and Hire a Car Cheap Verona Villafranca Airport. Search hundreds of rental car sites at once for car rental deals in Bergamo.
Car rental companies in Bergamo, Italy
We compare these companies in this city or in the region, WinRent, Key and Go, Hertz Dream Collection, Flizzr, Ecovia, Sicily By Car, Target Rent, Nomadcar, Payless, Avant Car, Global, Dollar, Firefly, B-Rent, Goldcar, Rhodium, InterRent, Keddy By Europcar, Oscar, Alamo, MoriniRent, Thrifty, Maggiore, Surprice, Elba by Car, Budget, Centauro, CarMotion, Noleggiare, OS Car Rental, Enterprise, Europcar, Optimorent, JoyRent, Autovia, Viten Group, Hertz, Avis, Green Motion, Italy Car Rent, National, King Rent, Sixt, Locauto, Buchbinder, Ace, Welcome Cars, Smile Rent and Autoclick. You can usually find the largest selection at airports such as Milan Malpensa Airport, Milan Linate Enrico Forlanini Airport, Bergamo-Milan Orio al Serio Il Caravaggio Airport and Vares Venegono Airport. The large companies usually have offices adjacent to the airport.
Car Hire & Rent a Car Bergamo Customer Feedback & Reviews