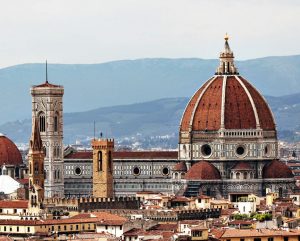 We compare large companies as well as small and find the best price for all types of cars. Compare rental cars and renting of a vehicle from several companies in the city, Florence in Italy.
Rental cars are available at Florence's travel centre, train stations (Firenze Santa Maria Novella Railway Station, Stazione Firenze Porta al Prato, Firenze Statuto, Firenze Campo di Marte Railway Station, Stazione Firenze Rifredi and Stazione Firenze Cascine) and airports like Florence Peretola Airport, Lucca-Tassignano Airport and Ampugnano Airport, FLR. A car hire service where every cost is included, no hidden fees and free cancellations/amendments up to 24 hours before you pick up the car. Easy and safe online booking of rental cars. Search for a city, airport etc. and choose a pick up place. We compare these companies in Florence or in Tuscany, Sicily By Car Autoeuropa on Borgo Ognissanti 100, Maggiore Amico Blu on Via Francesco Basili 21, Hertz on Via del Sansovino 53, Win Rent on Via Palazzuolo 146, Locauto on Via di Santa Lucia 16, National on Via di Santa Lucia 16r, Avis on Borgo Ognissanti 128, Hertz on Via Borgo Ognissanti 137, Alamo on Via di Santa Lucia 16r, Budget on Borgo Ognissanti 128, Maggiore Amico Blu Stazione on Via Maso Finiguerra 13, Maggiore Amico Blu on C O Aci Viale Giovanni Amendola 36, Europcar Via Borgognissanti on Borgo Ognissanti 53 55 57, Sicily By Car on Via Palagio Degli Spini, Europcar on Via Enrico Forlanini 2, Interrent on Via Francesco Basili 23.
About the city Florence (Florenz, Florentia, Firenze), located in the Province of Florence part, Tuscany region, Italy. It is the county seat in the region. 1th largest town/city when it comes to inhabitants in the region and the 8th largest town/district in Italy. Smaller villages, communities and suburbs nearby are Agliana, Fucecchio, Ponsacco, Figline Valdarno, Certaldo, Monsummano Terme, Castelfiorentino, Bellosguardo, Arcetri, Careggi and Ponte alla Badia. The community/city is located about 50 MASL. Larger neighbouring cities/communities are Prato (c. 181800 pop), Lucca (c. 81700 pop) and Arezzo (c. 76300 pop). About 349 300 (2015) inhabitants live in the city. Read more about what the city has to offer when it comes to experiences and which companies are located in Italy and Province of Florence. Find out more about the car hire companies in Province of Florence.
Tips and suggestions on places, events, activities, museums, attractions, experiences and tips on destinations you can visit during your stay in Florence, can be found here. Golf trip and need to rent a car? Golf Club Parco di Firenze 4 km and Le Pavoniere Golf&Country Club 17 km are some golf courses that are close to the community. Visit Theater Elsinor Florida, Theater Cestello, Theater Limonaia, Koan Studio, Auditorium Dell'Ospedale di Careggi, Auditorium Flog, Theater Studio, Theater Reims and Theater Verdi to see and experience plays, music and shows in the town centre. Shopping at a mall? Maybe at Centro Sesto, Centro Commerciale I Gigli and Centro Commerciale Ponte a Greve!
Porta Romana are old arches and arcs that are worth a visit. Riccardi Medici Palace Museum, Museum of Storia Naturale Sezione di Mineralogia e Litologia, Galleria dell'Accademia, Museum of Opera of Saint Maria of Fiore, Museo Leonardo da Vinci, Loggia del Bigallo, Cappelle Medicee, Opificio delle Pietre Dure, San Marco Museum, Museum of Palazzo Davanzati and Cenacolo di Sant'Apollonia are located nearby. Maybe a day at the museums and art galleries of the town? Are you interested in history and archaeology? Nearby are interesting places located at Tomb of Mula a Quinto, Villa of Pratolino, Hospital of Innocents and Villa Medicea La Petraia. Exciting antiquities, cultural heritage, ancient relics and older buildings that could be worth seeing are Da Bobo All'acciaiolo, Anfiteatro delle Cascine, Molino San Vincenzo and Anfiteatro Romano. Equestrian statue of Cosimo, Statue of Dante Alighieri, Fountain of Nettuno and Cloister of Scalzo are monuments and statues of fascinating historical events and individuals. Beautiful vast open spaces or squares close by are Piazza Della Libertà, Piazza San Marco, Piazzale Michelangelo, Piazza della Santissima Annunziata, Piazza della Signoria and Piazza della Repubblica.
You can gamble for money at a casino on Black Jack or Roulette at e.g. Alla Vittoria. Do you want to gamble on horses? For instance horse racing or harness racing.Or do you want to watch motor sports? These Firenze racecourse and Centro Ippico Toscano are located within a walking distance. Manors and palaces worth seeing up close nearby in Florence, are Villa La Quiete, Villa Medica di Castello, Villa Guicciardini Corsi Salviati, Villa of Quarto, Villa Medici at Careggi, Palazzo Vecchio, Antinori Palace, Villa Solaria, Strozzi Palace, Villa Villoresi and Pitti Palace. All within walking distance. Castello dell'Imperatore and Castello di (Castle) Calenzano are new and old castles that we recommend a visit to and are located in Florence. You are welcome to visit old fortresses, strongholds and forts such as Forte Belvedere, Rocca Strozzi and Fortress of Basso. Amusements parks, water parks and theme parks in and surrounding the city are Parco Avventura Il Gigante and Hidron. Close to the town centre there are athletic fields and sports fields such as Circolo Del Tennis. Nelson Mandela Forum, Artemio Franchi Fiorentina stadium, Stadium Baseball Cerreti and Stadium Luigi Ridolfi are located nearby if you want to watch sports or go to a concert.
Church of Santa Maria Maggiore, Orsanmichele, Church of Santa Maria del Carmine, Baptistery of Firenze and Basilica of San Lorenzo are notable churches or cathedrals close by. Do your shopping and make some bargains at Piazza del Mercato and Piazza Spartaco Lavagnini, these are markets that are close by and well worth a visit. Wine tour and tasting in Florence? Vineyards and wine producers that are close to the the city are, for example, Villa I Collazzi, Fattoria Il Milione Firenze, Villa I Lami, Castelli del Grevepesa, Giovanni Folonari, Tenuta di Nozzole and La Colombaia Ville di Bagnolo. Garden of Fortezza, Garden of Valfonda, Garden of Orti Oricellari, Giardino Palazzo Ricasoli Salviati and Garden of Pal Corsini Sul Prato are located in the city if you want to experience parks and gardens recommended by us. Panoramic Viewpoint of Strada per S. Francesco are located within walking distance from the town centre, which gives you a complete overview of the city. Le Cascine, Park comunale di Villa Vogel, Villa Medicea La Petraia, Park Villa Solaria and Park San Donato are located in the city if you want to experience beautiful and interesting parks and gardens.
Car hire in airports nearby
Car hire in airports nearby: Rent a Car Bologna Guglielmo Marconi Airport, Florence-Peretola Airport and Forlì International Airport.
Car rental companies in Florence, Italy
When you are looking for rental cars we compare these companies Goldcar, Locauto, WinRent, National, Thrifty, Hertz, Smile Rent, Sicily By Car, Avis, Maggiore, Enterprise, Rhodium, Noleggiare, Centauro, Optimorent, Welcome Cars, Keddy By Europcar, Nomadcar, B-Rent, Oscar Rent A Car, Elba by Car, Target Rent, Hertz Dream Collection, Italy Car Rent, JoyRent, Global Rent a Car, Buchbinder, Green Motion, Ace Rental Cars, Budget, Autovia, InterRent, Europcar, Sixt, Ecovia, MoriniRent, King rent, CarMotion, Firefly, Surprice, Avant Car, Flizzr, OS Car Rental, Alamo, Dollar, Payless, Autoclick and Viten Group. You can usually find the largest selection at airports such as Bologna Borgo Panigale Guglielmo Marconi Airport, Florence Peretola Amerigo Vespucci Airport and Forlì Luigi Ridolfi Airport. The large companies usually have offices adjacent to the airport.
Car Hire & Rent a Car Florence Customer Reviews & Feedback