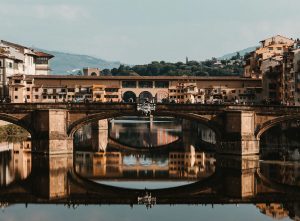 We can offer car hire where every cost is included, no hidden fees and free cancellations/amendments up to 24 hours before you are supposed to retrieve the car. Easy and safe online search for rental cars. Rental cars you can pick up directly at the airport, Florence-Peretola Airport. Look for a location and a choose destination in the list.
It always pays off to compare before you book. Small local businesses often have very good prices. We compare rental car prices and car hires from many companies at Florence-Peretola Airport in Florence, Italy and find the best prices on rental cars. Closest cities are Sesto Fiorentino 2 km, Florence 5 km, San Donnino 5 km, Calenzano 6 km, Campi Bisenzio 6 km and Scandicci 6 km. Autoitaly.co.uk lists prices from companies that are safe and quality assured so that there will be no problems when you arrive. Airport code is IATA: FLR and ICAO: LIRQ. 7 seat minivan, moped, 9 seat minivan, minibus, fullsize, mini, convertible, intermediate, cargo van, economy, standard, estate, compact, suv, jeep, luxury, minivan, premium, 5 seat minivan and automatic transmission cars are car types and models that autoitaly.co.uk can compare prices on. Compare the number of days you want, whether that be a week, weekend, rent for a day, a year, a whole month or a long-term rental. Maggiore, Maggiore Amico Blu on Via Francesco Basili 21, Avis on Via Palagio Degli Spini, Goldcar on Via Palagio Degli Spini, Thrifty Ap on A Vespucci Airport, Hertz on Via Palagio Degli Spini, Morini Rent Osmannoro on Via Lucchese 90 Osmannoro, Sicily By Car on Via Palagio Degli Spini, Budget on Via Palagio Degli Spini, Europcar on Via Palagio Degli Spini, Firefly on Via Palagio Degli Spini, Win Rent on 50127, Hertz Sesto Fiorentino on Ikea Via Francesco Redi 1 Sesto Fiorentino, Maggiore Rent on Via Palagio Degli Spini, Sixt on Via Palagio Degli Spini, National on 50127, Europcar on Via Enrico Forlanini 2, Interrent on Via Francesco Basili 23 are the companies we compare at/in the airport/country. Collect the car in one place and return it somewhere else, e.g. another city or country. It is possible to rent a car for one way, called the one way rental.
About Florence-Peretola Airport (Amerigo Vespucci Airport, Florence Airport) information, facts and data. The airport is in the municipality of Province of Florence, in the Tuscany region, in Italy. Lucca-Tassignano Airport, Ampugnano Airport and Arezzo Airfield are nearby airports. Other names for this airport could be Aeroporto di Firenze-Peretola, Florence Airport, Florence Peretola Airport, Florence Peretola Amerigo Vespucci Airport, Amerigo Vespucci Airport, Aeroporto di Firenze Amerigo Vespucci, Aeroporto di Firenze, International. The airport is located above sea level by 142 feet/43 meters. Closest big cities are Bologna 77 km (c. 366100 pop), Florence 5 km (c. 349300 pop), Prato 12 km (c. 181800 pop), Modena 96 km (c. 158900 pop), Livorno 77 km (c. 153800 pop) and Forlì 81 km (c. 93600 pop). Are you planning to, or flying to/from, and will be using Florence-Peretola Airport on your holiday or trip? Here you can find information, maps, weather, contact information and airport information. More information on where to you pick up or return your rental car, will be given after your reservation has been made. All companies have their own offices where you can pick up keys etc. Need a place to sleep? Otedis Garibaldi Relais et Imm, Garibaldi Relais et Immos, Otedis Hotel Garibaldi, B&b Caffellatte Hotel and Garibaldi's Relais Firenze are examples of hotels and youth hostels close to the airport. They are all within 3 km. Closest train stations are Stazione Firenze Castello, Stazione Firenze Rifredi, Stazione di Sesto Fiorentino and Stazione Firenze Cascine. If you arrive or will continue travelling by train, they are all within 4 km. Tax-free shopping? In the airport and nearby are e.g. Centro Commerciale I Gigli, Centro Sesto and Centro Commerciale Ponte a Greve. They are only a walk from the terminal. Near the airport, there are also car rental companies like Locauto on Via Palagio Degli Spini, Eurocar on Via Enrico Forlanini 2, Joyrent on Via Francesco Baracca 150.
Car rental companies at Florence Peretola Amerigo Vespucci Airport (FLR), Italy
We at autoitaly.co.uk compare these companies in Italy, Smile Rent, Key and Go, Rhodium, Firefly, Oscar, Payless, CarMotion, Budget, Alamo, Hertz, Italy Car Rent, Avis, Noleggiare, Target Rent, National, B-Rent, Locauto, Goldcar, Europcar, Elba by Car, OS Car Rental, JoyRent, Green Motion, Sicily By Car, Autovia, Surprice, Centauro, InterRent, Viten Group, King Rent, Global, Autoclick, Optimorent, WinRent, Ace, Welcome Cars, Nomadcar, MoriniRent, Avant Car, Maggiore, Buchbinder, Ecovia, Thrifty, Sixt, Enterprise, Flizzr, Hertz Dream Collection, Dollar and Keddy By Europcar.
Car Hire & Rent a Car Florence Peretola Amerigo Vespucci Airport Customer Feedback & Reviews