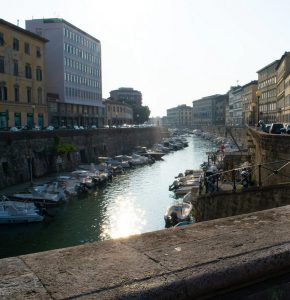 We compare large companies as well as small and find the best price for all types of cars. Compare rental cars and renting of a vehicle from several companies in the town, Livorno in Italy.
Car hire at Livorno's airports like Pisa / S. Giusto, Lucca-Tassignano Airport and Massa Cinquale Airport, train stations (Stazione Livorno Centrale, Stazione San Marco, Stazione Livorno Marittima, Stazione Livorno A.N., Stazione di Calambrone and Stazione di Tombolo) and travel centres etc and ferry terminals and ports (Moletto Nazario Sauro, Porto Mediceo, Livorno Ferry Port). We can offer a car hire service where every cost is included. There are no hidden fees or free cancellations/amendments up to 24 hours before you are supposed to pick up the car. An easy, straight forward and safe search for car hire online. With our search engine, you only need to write the name of the city, place etc. and you will immediately get a list of choices. We compare these companies in Livorno or in Tuscany, Avis on Calata Carrara Stazi Marittima, Budget Italia on Viale Giosuè Carducci 176b, Maggiore Amico Blu on Viale Giosuè Carducci 176, Hertz on Calata Carrara 18, Europcar on Stazione Marittima Porto di Calata Carrara, Movers Rent on Via Marco Mastacchi 212.
Information about the town Livorno (Leghorn, Livorn), located in Provincia di Livorno, Tuscany region, Italy. It is the central city in the area. 3th largest city/district when it comes to inhabitants in the region and the 20th largest town/community in Italy. The community and town is about 3 meters above sea level. Lucca (c. 81700 pop), Pisa (c. 77000 pop) and Pistoia (c. 73800 pop) are larger neighbouring communities and cities. Smaller communities, villages and suburbs nearby are Fucecchio, Ponsacco, Certaldo, Monsummano Terme, Castelfiorentino, Santa Croce sull'Arno, Pescia, Condotti Vecchi, Le Panche, Salviano and Padula. About 153 800 (2015) people live in the town. Are you planning to stay for a long period and spend your holiday here? Then there are many things to do and experience. We also give tips on which companies offer rental cars in Provincia di Livorno.
Some suggestions and tips on places, activities, events, attractions, museums, experiences and destinations in the town that are worth a visit during your holiday in Livorno. Gardens that are worth a visit and are located in the town centre are Villa Regina. Park Pertini, Villa Fabbricotti, Park Centro Città Odeon and Park via Gigli are located in the town if you want to experience beautiful and interesting parks and gardens. Manors and palaces worth seeing up close nearby in Livorno, are Palace of Dogana and Palace of Picchetto. All within walking distance. Want to look at the domiciles of the city's old rulers? Exciting castles such as, Casini of Ardenza, Castello Pasquini, Castel Boccale and Castello Sonnino are located close to Livorno. Fortezza Vecchia and Fortezza Nuova are fascinating old forts, strongholds and fortresses and are located in the town. Porto Mediceo and Scoglio della Regina are fascinating historical sites and attractions with archaeological value close to Livorno.
Monument of Quattro Mori are monuments and statues of fascinating historical events and individuals. Saint Jacopo in Acquaviva, Gazebo, Piazza Della Vittoria, Plaza Grande and Piazza XX Settembre are notable large open spaces and squares which are located in the central parts of town. Amusements parks, water parks and theme parks in and surrounding the city are Parco Divertimenti Piccolo Mondo and Sunlight Park. Are you looking for aquariums, tropical houses, safari parks, tropicariums, zoos, and terrariums nearby? Acquario di Livorno might be worth a visit. Museo Mascagnano, Museo Ebraico, Museo Civico Giovanni Fattori and Museo Provinciale di Storia Naturale are located close to the town centre. A day at the museums and art galleries of Livorno? Want to visit some markets? The towns markets are e.g. Mercato Centrale.
Livorno racecourse are located within a walking distance if you want to game on horses, in horse racing or harness racing or see motor sports. Close to the town centre there are athletic fields and sports fields such as Tennis Club Livorno. To watch and experience football, sports and concerts etc. you can visit Stadium Armando Picchi. Spiaggia per Cani, Spiaggia del Felciaio, Spiaggia libera per cani and Spiaggia Verruca are beaches that are close to the community if you want to relax, swim and sunbathe. Malls like Parco Levante and Centro Commerciale Fonti Del Corallo are close by if you want to do some shopping.
Golf trip and need to rent a car? Golf Club Tirrenia 9 km are some golf courses that are close to the community. Are you planning a wine tour and tasting in Italy? Wineries and wine producers that are close to Livorno are, for example, Costa di Nugola di Marchesi de' Frescobaldi and Fattoria Uccelliera. Beautiful churches or cathedrals not far away are Chiesa SS. Pietro e Paolo, Cathedral of San Francesco, Temple of Israelitico and S. Maria del Soccorso.
Car hire in airports nearby
Car hire in airports nearby: Florence-Peretola Airport, Lucca-Tassignano Airport and Pisa Airport.
Car rental companies in Livorno, Italy
To find the best price we compare following companies Ace, Centauro, King Rent, B-Rent, Italy Car Rent, Dollar, Optimorent, Ecovia, Budget, Autovia, Goldcar, Locauto, Oscar, Maggiore, Autoclick, Noleggiare, OS Car Rental, Payless, Buchbinder, Smile Rent, Alamo, Sixt, Keddy By Europcar, Green Motion, Europcar, Firefly, Surprice, Thrifty, Viten Group, Hertz, InterRent, CarMotion, Global, Nomadcar, Avant Car, National, Elba by Car, MoriniRent, Flizzr, Target Rent, WinRent, JoyRent, Sicily By Car, Enterprise, Avis, Welcome Cars, Rhodium and Hertz Dream Collection in Livorno. You can usually find the largest selection at airports such as Florence Peretola Amerigo Vespucci Airport, Lucca Tassignano Enrico Squaglia Airport, Pisa San Giusto Galileo Galilei Airport and Siena Ampugnano Airport. The large companies usually have offices adjacent to the airport.
Car Hire & Rent a Car Livorno Customer Reviews & Feedback