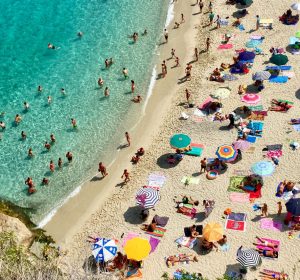 Car hire at Reggio Calabria's airports like Reggio Calabria Airport and Catania–Fontanarossa Airport, REG, train stations (Stazione di Reggio di Calabria Lido, Reggio Calabria Centrale railway station, Omeca, Reggio di Calabria Aeroporto, Reggio di Calabria Catona, Pellaro and Fiumara Gazzi) and travel centres etc and ferry terminals and ports (Port of Reggio Calabria). We can offer a car hire service where every cost is included. There are no hidden fees or free cancellations/amendments up to 24 hours before you are supposed to pick up the car. An easy, straight forward and safe search for car hire online. With our search engine, you only need to write the name of the city, place etc. and you will immediately get a list of choices.
Find the best prices for rental cars online. Comparing prices online can be very profitable, many smaller companies can otherwise only be booked on site. Comparison of rental cars and car hires from several businesses in the town of Reggio Calabria, Italy. To find the best price we compare following companies Avis on Via Ravagnese 134 Airport, Sicily By Car on Via Ravagnese Superiore 144, Locauto on Via Ravagnese Superiore 144, Europcar on Via Ravagnese 144 C O, Hertz Airport on Via Ravagnese Superiore 144, ACE on Via Ravagnese Inferiore 144, World Car on Via Contrada Gagliardi, Budget on Via Ravagnese Inferiore 134, Maggiore Rent on Via Ravagnese Superiore 144, Maggiore Dello Stretto on Via Saracinello in Reggio Calabria.
Information about the town Reggio Calabria (Reggio di Calabria), located in Provincia di Reggio Calabria, Calabria region, Italy. It is the central city in the area. 1th largest city/district when it comes to inhabitants in the region and the 18th largest town/community in Italy. Located about 31 m above sea level. Larger neighbouring cities/communities are Messina (c. 219900 pop), Acireale (c. 49500 pop), Barcellona Pozzo di Gotto (c. 34600 pop) and Milazzo (c. 31800 pop). Smaller communities, villages and suburbs nearby are Villa San Giovanni, Rosarno, Riposto, Taurianova, Locri, Polistena, Sbarre, Vito Inferiore, Vito, Nasiti and Gallina. With a population of around 169 100 people in 2015. Read more about what the town has to offer when it comes to experiences and which companies are located in Provincia di Reggio Calabria and the country. We also give tips on which companies offer rental cars in Provincia di Reggio Calabria.
Suggestions on attractions, museums, activities, events, experiences, places and destinations that are worth a visit during your trip to the town Reggio Calabria. Museums and art galleries in Reggio Calabria that could be interesting are Museo Diocesano, Museum of Storia Naturale dello Stretto di Messina nel Mediterraneo, Villa Melania, Museo Nazionale Kore Biglietteria, National Museum of Magna Grecia, Museum of Biologia Marina e Paleontologia di Reggio Calabria, Planetario provinciale Pythagoras, Soprintendenza Alle Antichita' della Calabria and Museum of Strumento Musicale. Beautiful churches or cathedrals not far away are Parrocchia Maria Santissima del Rosario, Church of Sant'Agostino, Parocchia Santa Maria del Lume Pellaro, Church of San Giorgio al Corso and Chiesa SS. Annunziata dei Catalani. Arena dello Stretto, are well worth a visit to experience culture at an amphitheatre nearby the town centre. To see and experience music, shows and plays at Theater Comunale Francesco Cilea and Theater Primo.
Swimming and sun bathing on the beach? You can do that on Spiaggia di Archi, Lido Comunale Zerbi and Spiaggia La Sorgente. Take a trip with your car and make a visit! Watching sports or exercising? Athletic fields close to the city are Circolo Tennis Rocco Polimeni. To watch and experience football, sports and concerts etc. you can visit Stadium Giovanni Celeste, Stadium Campoli, Stadium Oreste Granillo and Arena Villa Dante. Want to spend a day shopping? Centro Commerciale Tremestieri, Porto Bolaro and Perla dello Stretto are located within walking distance. Fortino di Pentimele and Collina di Pentimele are interesting ruins of old buildings and objects.
Monument to Caduti di Tutte le Guerre, Fontana Con Scoltuta Bronzea, Madonna della Lettera and Monument to Latinista F. Sofia Alessio are exciting statues and monuments of famous people and events. Piazza Valsesia, Piazza de Nava, Piazza Garibaldi, Piazza Camagna and Piazza Agostino are notable squares or large open spaces close by in the central parts of town. Palazzo Provinciale, Palazzo Foti, Monte di Pietà, Villa Genoese Zerbi and Villa Mazzini are magnificent and interesting buildings, villas and palaces close to the centre of Reggio Calabria. In the town centre there are new as well as old interesting castles to look at, such as Castello Aragonese, Castello di (Castle) Santo Niceto and il Castellaccio. Real Cittadella di Messina, Forte Gonzaga, Forte Petrazza, Forte San Salvatore and Forte Altafiumara are fascinating old forts, strongholds and fortresses and are located in the town. If you are travelling with children and want to visit an amusement park, water park or theme park, you have these options; Parco Giochi Trocadero and Karting Club Messina. Park Caserta and Villa Dante are relaxing green areas, park and plantings if you want to relax and have a picnic on the grass. Keen on seeing ancient relics, older buildings, antiquities and cultural heritage? These places, Ruderi di una antica Badia, could be worth a visit.
Find the best car hire and cheapest car rental in airports nearby
Find the best car hire and cheapest car rental in airports nearby: Hire a Car Catania-Fontanarossa Airport, Cheap Car Hire Reggio Calabria Airport and Hire Cars Lamezia Terme Airport.
Car rental companies in Reggio Calabria, Italy
When you are looking for rental cars we compare these companies Centauro, InterRent, Elba by Car, King Rent, Rhodium, MoriniRent, Avant Car, Autoclick, Global, Europcar, Buchbinder, Italy Car Rent, Keddy By Europcar, Alamo, Nomadcar, Oscar, Budget, JoyRent, Goldcar, CarMotion, Payless, Surprice, National, Autovia, Hertz Dream Collection, Sixt, B-Rent, Maggiore, Smile Rent, Key and Go, Locauto, Noleggiare, Avis, Flizzr, Ecovia, Dollar, Welcome Cars, Sicily By Car, Firefly, Green Motion, Ace, Enterprise, Optimorent, Viten Group, Hertz, WinRent, Thrifty, Target Rent and OS Car Rental. You can usually find the largest selection at airports such as Catania Fontanarossa Vincenzo Bellini Airport and Reggio Calabria Stretto Tito Minniti Airport. The large companies usually have offices adjacent to the airport.
Car Hire & Rent a Car Reggio Calabria Customer Feedback & Reviews