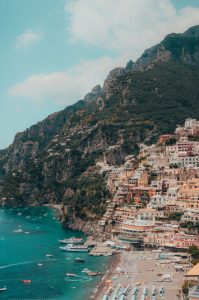 We compare large companies as well as small and find the best price for all types of cars. Compare rental cars and renting of a vehicle from several companies in the town, Salerno in Italy.
Rental cars at Salerno's train stations (Salerno, Stadio Arechi, Pontecagnano, Stazione di Cava dei Tirreni and Stazione di Codola), travel centre and airports like Salerno Costa d'Amalfi Airport and Naples Airport, QSR and ports/ferry terminals like Marina Masuccio Salernitano, Marina di Arechi, Salerno Ferry Port. We have an easy and safe booking system of rental cars online. Search and choose your destination, search for country, city etc. and choose from the list. A car hire service where every cost is included, no hidden fees and free cancellations/amendments up to 24 hours before you are supposed to pick up the car. To find the best price we compare following companies Budget on Via Clemente Mauro 20, Budget Italia on P Zza Ferrovia Via Clemente Mauro 2, Hertz Stazione on Piazza Vittorio Veneto 33, B Rent on Via Giacinto Vicinanza 30, Avis Budget on Via Clemente Mauro 20, Europcar on Via Clemente Mauro 18, Win Rent on Corso Garibaldi 45, Top Rent on Via Irno 205, Sicily By Car Stazione Ffss on Piazza Vittorio Veneto 36, Noleggiare on Viale Verdi 6, Maggiore Amico Blu on Via Clemente Mauro 2 in Salerno.
Salerno is a town in the municipality Provincia di Salerno, Campania region, Italy. It is the central city in the area. 2th largest city/town when it comes to inhabitants in the region and the 27th largest town/district in Italy. Larger neighbouring cities/communities are Naples (c. 959500 pop), Torre del Greco (c. 85900 pop), Giugliano in Campania (c. 80300 pop) and Caserta (c. 72800 pop). The community/city is located about 4 MASL. The city had c. 125 800 inhabitants at the end of 2015. Sorrento, Lusciano, Santa Maria a Vico, Casagiove, Casandrino, San Nicola, Masseria Fortino, Brignano Superiore, Masseria Fruscione and Mercatello are small villages, suburbs and communities nearby. Are you planning to stay for a long period and spend your holiday here? Then there are many things to do and experience. We also give tips on which companies offer rental cars in Provincia di Salerno.
Some suggestions and tips on places, activities, events, attractions, museums, experiences and destinations in the town that are worth a visit during your holiday in Salerno. Have you tasted the local wine? Vineyards within a short distance are Le Vigne di Raito, Montevetrano and Terra di Vento. Wine tour and tasting in Salerno? Close to the town centre, the Stadium Arechi, Stadium Comunale Simonetta Lamberti and Stadium Donato Vestuti's are located. See the different teams in town play or are you craving some football? Or want to see a concert? Notable churches or cathedrals are Parrocchia S. Lorenzo Martire, Concattedrale di Santa Maria della Visitazione, Duomo di (Cathedral) Salerno and San Pietro Apostolo which are close by.
Find the best car hire and cheapest car rental in airports nearby
Find the best car hire and cheapest car rental in airports nearby: Cheap Hire Cars Naples Airport, Car Hire Foggia Gino Lisa Airport and Hire a Car Cheap Salerno Costa d'Amalfi Airport. Luxury Car Rental Deals in Salerno.
Car rental companies in Salerno, Italy
WinRent, Key and Go, Hertz Dream Collection, Flizzr, Ecovia, Sicily By Car, Target Rent, Nomadcar, Payless, Avant Car, Global, Dollar, Firefly, B-Rent, Goldcar, Rhodium, InterRent, Keddy By Europcar, Oscar, Alamo, MoriniRent, Thrifty, Maggiore, Surprice, Elba by Car, Budget, Centauro, CarMotion, Noleggiare, OS Car Rental, Enterprise, Europcar, Optimorent, JoyRent, Autovia, Viten Group, Hertz, Avis, Green Motion, Italy Car Rent, National, King Rent, Sixt, Locauto, Buchbinder, Ace, Welcome Cars, Smile Rent and Autoclick are the companies we compare near Salerno to find the best price. You can usually find the largest selection at airports such as Naples Capodichino Ugo Niutta Airport and Salerno Amalfi Coast Pontecagnano Airport. The large companies usually have offices adjacent to the airport.
Car Hire & Rent a Car Salerno Customer Feedback & Reviews