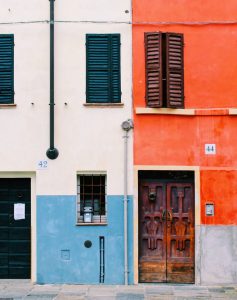 Easy and safe online booking for rental cars. Search for a city, airport etc. and choose a pick up location. The search will look for all types of models. Rental cars are available at Parma's travel centre, train stations (Parma) and airports like Parma Airport, Brescia-Montichiari Airport and Verona Villafranca Airport, PMF. Car hire where every cost is included, no hidden fees and free cancellations/amendments up to 24 hours before you pick up the car.
Comparison of rental car prices and car hire from several businesses in the town Parma in Italy. Find the best prices for rental cars. It always pays off to compare before you book, in some smaller communities local companies can have very competitive prices. Budget Italia on Largo Remo Coen N 21, Win Rent on Strada San Donato 2a, Hertz Ikea on Ikea Largo Benito Jacovitti 11, Avis on Largo Maesta del Taglio 3a, Maggiore Rent on Largo Coen, Europcar on Strada Dei Mercati 3, Hertz on Via Emilia Ovest 46h, Major Amico Blu on Largo Remo Coen 21 B, Morini Rent on Via Emilia Ovest 77, Budget on Strada Traversante Lupo 3a, Galdieri Rent on Via Trento 20 E, Hertz on Via Mantova 166 are the companies we compare near Parma to find the best price.
About the town Parma, located in the Province of Parma part, Emilia-Romagna region, Italy. It is the central city in the area. 3th largest town/city when it comes to inhabitants in the region and the 23th largest town/district in Italy. Other larger cities/communities nearby are Modena (c. 158900 pop), Reggio nell'Emilia (c. 133300 pop) and Piacenza (c. 93200 pop). Whether you are visiting the town Parma just for one day or for a longer period, there is plenty to do. Read more further down. The community/city is located about 57 MASL. Smaller communities, villages and suburbs nearby are Viadana, Sant'Antonio, Fiorenzuola d'Arda, Rubiera, Guastalla, Valera, Antognano, Casino Dalla Rosa, Scarzara and Marore. The town has about 146 300 (2015) inhabitants. Learn more about which companies are located in the country.
Tips and recommendations in Parma on activities, museums, experiences, attractions, places, events and destinations you can visit during your trip. In the city, there are interesting monuments and statues of famous people and events like Monument of Ercole e Anteo, Area del monumento a Giuseppe Verdi, Monument of Giuseppe Garibaldi, Fountain of Trianon and Monument to Caduti. Visit nice squares and large open spaces in the central parts of town. Piazza del Duomo, Piazza Ghiaia and Piazza della Pace are nearby. Do you want to do some shopping? The large malls in the city are e.g. Euro Torri, IKEA Parma and Centro Commerciale Eurosia. Cathedral of Parma, Church of Steccata, Church of San Rocco and Chiesa Cattolica Parrocchia S.Alessandro are notable churches or cathedrals close by.
See the town's team play or practice? Close to the city, the Centro Sportivo Aldo Notari and Stadio di atletica Lauro Grossi is located. Close to the town centre, the Stadium Ennio Tardini's are located. See the different teams in town play or are you craving some football? Or want to see a concert? Golf trip and need to rent a car? Parma Golf & Country Club 9 km are some golf courses that are close to the community. Amusements parks, water parks and theme parks in and surrounding the city are Parco Divertimenti Gommaland and Minigolf Mamiano. Museums and art galleries in Parma that could be interesting are Museo A. Bocchi, Galleria Nazionale Parma, National Archaeological Museum of Parma, Stuard Picture Gallery, Studio Museo Carlo Mattioli, Museo Storico e Fonoteca del Conservatorio Arrigo Boito, Museo Diocesano, Parma, Casa del Suono, Museum of Anatomia Umana Normale and Museo Casa Natale Arturo Toscanini.
Parks, green areas and plantings worth visiting for recreation and relaxing are Park Ducale, Park Cittadella and Park naturale regionale dei Boschi di Carrega. Why not visit Auditorium del Carmine, Theater Regio, Auditorium Paganini and Theater Farnese to experience and see music, plays and shows nearby Parma. Palazzo Borri, Palazzo Soragna Tarasconi, Palazzo Già Simonetta, Palace of Orsoline del Sacro Cuore, Palace of Governatore, Ducal Palace, Certosa di Parma, Casa Cordero Già Piazza, Palace of Pilotta and Palazzo Rota are exciting, older, magnificent buildings such as mansions and palaces nearby. Castello di (Castle) Torrechiara and Il Fort and castle of Burattini are new as well as old beautiful castles to see and they are located in the town centre.
Find the best car hire and cheapest car rental in airports nearby
Find the best car hire and cheapest car rental in airports nearby: Cheapest Car Hire Milan Linate Airport, Cheapest Hire Cars Bologna Guglielmo Marconi Airport and Cheap car rental Verona Villafranca Airport. Search hundreds of rental car sites at once for car rental deals in Parma.
Car rental companies in Parma, Italy
Elba by Car, Payless, Keddy By Europcar, Viten Group, Oscar, Sicily By Car, Autovia, Avis, Global, Avant Car, King Rent, Welcome Cars, Optimorent, Thrifty, Buchbinder, National, InterRent, Italy Car Rent, Ecovia, Sixt, Europcar, Ace, Locauto, Target Rent, Goldcar, Enterprise, Noleggiare, Dollar, Firefly, Smile Rent, Key and Go, Flizzr, Surprice, Green Motion, JoyRent, Hertz Dream Collection, OS Car Rental, WinRent, Rhodium, CarMotion, Nomadcar, Maggiore, Hertz, Centauro, Alamo, B-Rent, Autoclick, Budget and MoriniRent are the companies we compare in the city/country. You can usually find the largest selection at airports such as Bologna Borgo Panigale Guglielmo Marconi Airport, Verona Villafranca Valerio Catullo Airport, Parma Giuseppe Verdi Airport and Brescia Montichiari Gabriele D'Annunzio Airport. The large companies usually have offices adjacent to the airport.
Car Hire & Rent a Car Parma Customer Feedback & Reviews