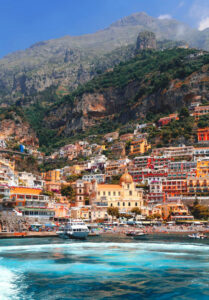 Find the best prices for rental cars online. Comparing prices online can be very profitable, many smaller companies can otherwise only be booked on site. Comparison of rental cars and car hires from several businesses in the town of Positano, Italy.
We have an easy and safe online booking of rental cars. Car hire where every cost is included, no hidden fees and free cancellations/amendments up to 24 hours before you are supposed to pick up the car. Search and choose destination, search for country, city etc. and choose from the list. Rental cars at Positano's train stations (S. Agnello, Stazione di Castellammare di Stabia, Sorrento, Stazione di Scafati, Pompei Stazione, Stazione Torre Annunziata Città and Stazione di Angri) travel centre and airports like Naples Airport and Salerno Costa d'Amalfi Airport. InterRent, Hertz, Green Motion, National, Dollar, Payless, Budget, Oscar Rent A Car, King rent, Sixt, Surprice, Rhodium, Hertz Dream Collection, Avis, Buchbinder, Autoclick, Global Rent a Car, Centauro, Nomadcar, Thrifty, Goldcar, Ace Rental Cars, Alamo, Flizzr, Keddy By Europcar, Firefly, Europcar, Avant Car, Enterprise are the companies we compare in Positano/Italy.
Positano is a town in the municipality, Provincia di Salerno, Campania region, Italy. Is a locality in the area. 281th largest city/town when it comes to inhabitants in the region and the 3683th largest district/town in Italy. Naples (c. 959500 pop), Salerno (c. 125800 pop), Torre del Greco (c. 85900 pop) and Giugliano in Campania (c. 80300 pop) are larger neighbouring communities and cities. The community/city is located about 30 MASL. Are you planning to stay for a long period and spend your holiday here? Then there are many things to do and experience. The population of the town is about 2334 in 2015. Smaller villages, communities and suburbs nearby are Sorrento, Lusciano, Santa Maria a Vico, Casagiove, San Cipriano d'Aversa, Casandrino, Montepertuso, Arienzo, Santa Maria del Castello, Nocelle and Laurito. Learn more about which companies are located in the country.
Recommendations and tips on activities, experiences, museums, attractions, events, places and destinations in Positano you can visit during your stay in the town can be found here. Villa of Pollio Felice – Regina Giovanna are interesting ruins of old buildings and objects. Beautiful churches or cathedrals not far away are Santa Maria Assunta and Parish Church of Santa Maria delle Grazie. Get an overview of the whole city at Sentiero dei Limoni, Torre dello Ziro, Terrazza Dell'infinito and Panorama Costiera Amalfitana which are located within walking distance from the town centre.
Wineries and wine producers that are close to the the town are, for example, Le Vigne di Raito, Vini Episcopio and Cantina del Vesuvio Azienda Vinicola di Russo Maurizio. Wine tour and tasting in Positano? Marina di Praia, Marameo, Spiaggia di Tordigliano, Spiaggia Castellammare di Stabia, Spiaggia Fornillo and Spiaggia San Francesco are beaches that are close to the community if you want to relax, swim and sunbathe. Manors and palaces worth seeing up close nearby in Positano, are Palazzo Santa Croce, Villa San Marco and Villa Arianna. All within walking distance. Castello di (Castle) San Nicola de Thoro-Plano, Castello Doria and Castello Medioevale – Castellammare di Stabia are new and old castles that we recommend a visit to and are located in Positano. Fortezza Trofimena are fascinating old forts, strongholds and fortresses and are located in the town. To experience and watch exciting history and archaeology, visit these nearby places, Villa Poppaea, Antiquarium stabiano and Villa Rufolo. Antiche Baths of Stabia, Scavi Dell'Antica Stabia and Remains of Villa Romana e Antiquarium have fascinating antiquities, older buildings, ancient relics and cultural heritage near the town. Valle dell'Orso and Valle dell'Avventura are water parks, amusement parks or theme parks nearby. If you are craving for activities and experiences with your children.
Nearby destinations, Positano
Find the best car hire and cheapest car rental in airports nearby: Hire a Car Cheap Naples Airport and Hire Cars Salerno Costa d'Amalfi Airport. Find the cheapest car rental & best car hire in nearby cities: Van Rental Sant'Agnello, Cheapest Hire Cars Gragnano, Compare Car Hire Castellammare di Stabia, Sorrento and Amalfi. Compare the number of days you want, whether that be a week, weekend, rent for a day, a year, a whole month or a long-term rental in Positano. Rent a car in cities in the region: Car Hire Naples, Cheapest Car Hire Salerno, Cheap Car Hire Torre del Greco, Giugliano in Campania and Caserta.
Car rental companies in Positano, Italy
To find the best price, we compare the following companies; Avis, Hertz, Europcar and Budget. You can usually find the largest selection at airports such as Naples Capodichino Ugo Niutta Airport and Salerno Amalfi Coast Pontecagnano Airport. The large companies usually have offices adjacent to the airport.
Car Hire & Rent a Car Positano Customer Feedback & Reviews