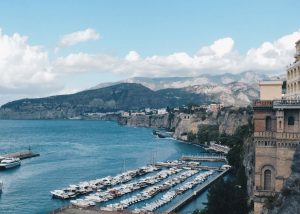 Car hire at Sorrento's airports like Naples Airport and Salerno Costa d'Amalfi Airport, RRO, train stations (Sorrento, S. Agnello, Stazione di Castellammare di Stabia and Stazione Torre Annunziata Città) and travel centres etc and ferry terminals and ports (Marina Grande, Marina di Cassano, Port of Sorrento). We can offer a car hire service where every cost is included. There are no hidden fees or free cancellations/amendments up to 24 hours before you are supposed to pick up the car. An easy, straight forward and safe search for car hire online. With our search engine, you only need to write the name of the city, place etc. and you will immediately get a list of choices. Comparison of rental car and car hire from several businesses in the town Sorrento, Italy. Find the best prices for rental cars online. Comparing prices online can be very profitable, many smaller companies can only be booked on site. We compare these companies in Sorrento or in Campania, Budget on Corso Italia 322, Europcar on Corso Italia 210 P, Avis on Corso Italia 322, Hertz on Via Capo 8, B Rent on 246 D Corso Italia, Jollyrent on Corso Italia 3, Hertz on Corso Italia 261, Win Rent on Corso Italia 81 Santagnello, Noleggio Jollyrent on Corso Italia 3, Jollyrent on Via Degli Aranci 180, Positano on Via Gottola 83 Piano, Positano on Via Nuovo Rione Cappuccini 19 Santagnello.
Sorrento is located in the municipality Province of Naples, Campania region, Italy and is a town. Is a locality in the area. It is the 77th largest town/city when it comes to inhabitants in the region and the 588th largest city/district in Italy. Regardless of how long you are staying the town there are things to experience and do. Larger surrounding cities/communities are Naples (c. 959500 pop), Salerno (c. 125800 pop) and Torre del Greco (c. 85900 pop). Smaller villages, communities and suburbs nearby are Lusciano, Santa Maria a Vico, Casagiove, San Cipriano d'Aversa, Casandrino, Saviano, Monte di Procida, Priora, Pontone, Sant'Agata sui Due Golfi, Montecorbo and Arorella. The community and town is about 50 meters above sea level. About 14 700 (2015) people live in the town. We also give tips on which companies offer rental cars in Province of Naples.
Are you staying for a long time in Sorrento? Some suggestions and tips on museums, activities, events, attractions, experiences, destinations and places that are worth a visit during your trip to the town. Piazza Gargiulo, Piazza Giovan Battista de Curtis and Piazza Andrea Veniero are notable large open spaces and squares which are located in the central parts of town. Historical and archaeological attractions that are worth seeing nearby are Villa Prota, Tiberiòs Leap, Amphitheatre of Pompeii and Villa Poppaea. Ancient relics, cultural heritage, antiquities and older buildings close to Sorrento are located at Scavi Dell'Antica Stabia, Palazzo a Mare, Villa of Pollio Felice and Antiche Baths of Stabia. Chiostro di San Francesco, Museo Archeologico G. Vallet and Museo Correale di Terranova are located close to the town centre. A day at the museums and art galleries of Sorrento?
Wine tour and tasting in Sorrento? Vineyards and wine producers that are close to the the town are, for example, Cantina del Vesuvio Azienda Vinicola di Russo Maurizio and Vini Episcopio. Close to the town centre, the Stadium Comunale Italia's are located. See the different teams in town play or are you craving some football? Or want to see a concert? Valle dell'Orso and Valle dell'Avventura are theme parks, water parks or amusement parks nearby. If you are looking for experiences and activities for the family. Villa Jovis, Roman Villa of Damecuta and Villa of Pollio Felice – Regina Giovanna are interesting ruins of old buildings and objects.
To see the whole Sorrento from an observation point, make a visit to Via Krupp, Strada panoramica per Sorrento, Belvédère di Tragara and Landscape from Mount Solaro in Chair Lift. Vallone dei Mulini, Park Giochi, Villa Fondi de Sangro and Villa Fiorentino Park are located in the town if you want to experience beautiful and interesting parks and gardens. Notable churches or cathedrals are Parrocchia S. Lucia, Convento di San Francesco, Santuario del Carmine and Church of San Paolo which are close by. Monastery of Santa Teresa, Deserto and Ruderi del Monastery of San Renato are beautiful monasteries/nunneries and cloisters nearby. Swimming and sun bathing on the beach? You can do that on Spiaggia Fornillo, Marameo, Puolo, Spiaggia di Tordigliano and Spiaggia San Francesco. Take a trip with your car and make a visit! Famous and interesting palaces, villas and mansions in the city are Palazzo Santa Croce, Villa la Terrazza, Villa Pompeiana and Palazzo Murat. In the town centre there are new as well as old interesting castles to look at, such as Castello Medioevale – Castellammare di Stabia. San Michele are fascinating old forts, strongholds and fortresses and are located in the town.
Nearby destinations, Sorrento
Find the best car hire and cheapest car rental in airports nearby: Hire a Car Cheap Naples Airport and Hire Cars Salerno Costa d'Amalfi Airport. We allows you to quickly and easily compare results from hundreds of car rental sites at once. Find the cheapest car rental & best car hire in nearby cities: Van Rental Sant'Agnello, Cheapest Hire Cars Positano, Compare Car Hire Castellammare di Stabia, Gragnano and Capri. Cheap SUV Rentals in Sorrento. Rent a car in cities in the region: Car Hire Naples, Cheapest Car Hire Salerno, Cheap Car Hire Torre del Greco, Giugliano in Campania and Caserta.
Car rental companies in Sorrento, Italy
We compare these companies in this city or in the region, Avis, Hertz, Europcar, Budget, Sixt and Thrifty. You can usually find the largest selection at airports such as Naples Capodichino Ugo Niutta Airport and Salerno Amalfi Coast Pontecagnano Airport. The large companies usually have offices adjacent to the airport.
Car Hire & Rent a Car Sorrento Customer Feedback & Reviews