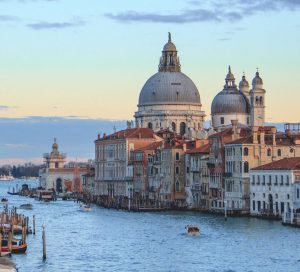 We can offer a car hire service in Venice where every cost is included. There are no hidden fees or free cancellations/amendments up to 24 hours before you are supposed to pick up the car. An easy, straight forward and safe search for car hire online. With our search engine, you only need to write the name of the city, place etc. and you will immediately get a list of choices.
Car hire at Venice's airports like Venice Marco Polo Airport, Treviso-Sant'Angelo Airport and Vicenza Airport, VCE, train stations (Venezia Santa Lucia Railway Station, Stazione Venezia Marittima, Venezia Porto Marghera Station and Venezia Mestre Railway Station) and travel centres etc and ports/ferry terminals like Canale delle Galeazze, Darsena si S. Elena, Venice Ferry Port.
Compare rental cars and renting of a vehicle from several companies in the city, Venice in Italy. We compare large companies as well as small and find the best price for all types of cars. We compare these companies in this city or in; Veneto, Maggiore Rent on Isola Nova del Tronchetto 37, Blitz on Santa Croce 522, Thrifty on Piazzale 496, Avis on Isola Nova del Tronchetto 37, Hertz Venecis on Santa Croce 496 E, Maggiore on Piazzale 496 G, Avis on Tronchetto, Avis on Piazzale 496 G, Maggiore Rent on Sestiere Santa Croce 496, Sixt on Piazzale 496, Europcar on Piazzale 496 H, Win Rent on Isola Nova del Tronchetto 47, Hertz on Piazzale 496, Avis Italy on Ponte Della Libertà 1961, Avis on Sestiere Santa Croce 496 F.
Venice (Venetia, Venedig, Venezia) is a city in the municipality Venice, Veneto region, Italy. It is the county seat in the region. 6th largest city/town when it comes to inhabitants in the region and the 108th largest town/district in Italy. Regardless of how long you are staying the city there are things to experience and do. Small villages, communities and suburbs nearby are Taglio, Cittadella, Vigonza, Porto Viro, Piove di Sacco, Porcia, San Giorgio Maggiore, Giudecca, San Clemente, Murano and Vignola Piccola. Padova (c. 203700 pop), Mestre (c. 147700 pop), Vicenza (c. 107100 pop) and Treviso (c. 77600 pop) are other larger communities, cities nearby. The city had c. 51 300 inhabitants at the end of 2015. The town/city is located about 2 MASL. S. Giorgio (line N,2), Arsenale (line R,1,41,42), Celestia (line 41,42,51,52), Bacini (line B,41,42,51,52), Giardini Esposizioni (line N,1,2,8,41,42,51,52,61,62), S. Pietro di Castello (line 41,42,51,52) and S. Elena (line LN,1,41,42,51,52,61,62) are stops and bus stations in the city. Find out more about the car hire companies in Venice.
Suggestions and tips on what to do in the city Venice, attractions, places, events, museums, experiences, activities and tips on destinations to visit during your stay. Like golf? Want to try out the local golf courses? Golf courses that are close to the city are e.g. Golf Zerman 17 km, Foresteria Golf Club Jesolo 23 km, Golf Ca' della Nave 19 km, Circolo Golf Venezia 11 km and Golf Club Villa Condulmer 17 km. Music, plays and shows in the town centre? We recommend Theater Verde, Theater Goldoni and La Fenice. Located within walking distance. Want to watch a game or sports, maybe go to a concert? Close to the city are Stadium Perluigi Penzo. Maybe see a local game of football?
Manors and palaces worth seeing up close nearby in Venice, are Palazzo Fortuny, Ca' Pesaro, Palazzo Pisani Moretta, Fondaco dei Tedeschi and Palazzo Mocenigo. All within walking distance. Close by there are interesting forts, strongholds and fortresses such as, Forte Morosini, Forte Carpenedo, Forte Alberoni, Fort of Sant' Andrea and Forte Malamocco. If you are travelling with children and want to visit an amusement park, water park or theme park, you have these options; Aqualandia. Beautiful churches or cathedrals not far away are St Mark's Basilica, Santa Maria Gloriosa dei Frari, Santo Stefano and San Polo. Convento delle Figlie del Cuore di Gesu' and San Lazzaro degli Armeni are notable cloisters or monasteries/nunneries close by. Look at famous statues and monuments of famous people and events like Monumento Nazionale a Vittorio Emanuele II, Monument to Partigiana veneta, Lion of Piraeus and Colonne di San Marco e San Todaro. Campo Santa Margherita, Campo dei Frari, Piazza San Marco, Campo San Polo, Campo dei Mori and Piazzetta San Marco are notable large open spaces and squares which are located in the central parts of town.
Spiaggia Lungomare d'Annunzio, Litorale Sant Erasmo, Litorale di Lido and Spiaggia Sorriso are beaches nearby if you want to relax and bask in the sun for a couple of days. Ca' Rezzonico, Museo Correr, Museum of Natural History, Palazzo Grassi and Scuola di San Rocco are located close to the town centre. A day at the museums and art galleries of Venice? You can gamble for money at a casino on Black Jack or Roulette at e.g. Casinò Municipale. Giardino Papadopoli are located in the city if you want to experience parks and gardens recommended by us. Park giochi pubblico, Giardini Pubblici, Park Rimembranze and Lido di Venezia are located in the city if you want to experience beautiful and interesting parks and gardens.
Look at old historical ruins like Castello delle (Castle) Polveri, Portrait of the Four Tetrarchs and Forte Tron. Are you planning a wine tour and tasting in Italy? Vineyard and wine producers that are close by are Orto di Venezia. Historical and archaeological attractions that are worth seeing nearby are Dorsoduro.
Nearby destinations, Venice
Find the best car hire and cheapest car rental in airports nearby: Compare Rental Cars Venice Marco Polo Airport, Compare Hire Cars Treviso Venice Airport and Hire Cars Vicenza Airport. Luxury Car Rental Deals in Venice. Rent a car in cities in the region: Cheap rental cars Verona, Cheapest Car Hire Padova, Cheap car rental Mestre, Vicenza and Treviso.
Car rental companies in Venice, Italy
We compare these companies in this city or in the region, Avis, Hertz, Europcar, Budget, Sixt, Thrifty, National, Enterprise, Alamo, Dollar, Keddy By Europcar, InterRent, Payless, Green Motion, Firefly, Flizzr, Surprice, Goldcar, Rhodium and Global. You can usually find the largest selection at airports such as Vicenza Tommaso Dal Molin Airport, Udine Campoformido Airport, Treviso Sant'Angelo Antonio Canova Airport, Venice-Tessera Marco Polo Airport and Belluno Arturo dell'Oro Airport. The large companies usually have offices adjacent to the airport.
Car Hire & Rent a Car Venice Customer Feedback & Reviews