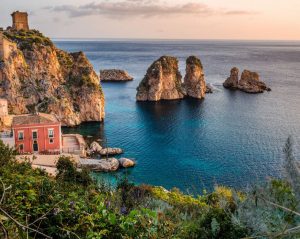 It always pays off to compare before you book, especially on rental cars. The price can differ very much between different companies. At autoitaly.co.uk you can compare prices on rental cars and car hire from several companies on the island Sicily, Italy. Find the best prices for rental cars online. Closest cities are Montedoro, Santa Caterina Villarmosa, Marianopoli, Serradifalco and Caltanissetta.
We can offer car rental where every cost is included, no hidden fees and free cancellations or amendments up to 24 hours before you are supposed to pick up the car. Easy, effortless and safe online search for rental cars. Rent a car at Sicily's train stations, ports/ferry terminals like Porto Turistico Marina di Ragusa, Port of Cefalù, Port of Scoglitti, Porto Sciacca, Termini Imerese Ferry Port, Porto Rifugio, Port of Licata, Catania Ferry Port, Port of Sant'Agata Militello, Port of San Leone Mosè and Marina di Porto Empedocle, airports and travel centres etc. Closest airports are Trapani Airport, Vincenzo Magliocco Airport, Catania–Fontanarossa Airport and Sigonella NAS. All large companies have offices in the large cities and airports, in some communities you can also find prices from smaller companies. Drive at your own pace without stress if you are planning a tour of the island. When you are looking for a rental car on the island, autoitaly.co.uk compares, for example, these companies: Rhodium, Surprice, Centauro, OS Car Rental, JoyRent, Target Rent, Welcome Cars, Ace Rental Cars, Hertz, Oscar Rent A Car, B-Rent, Sixt, Goldcar, Dollar, King rent, MoriniRent, Alamo, Autovia, National, Smile Rent, Green Motion, Locauto, Avis, Budget, Buchbinder, Hertz Dream Collection, Optimorent, WinRent, Keddy By Europcar, Elba by Car, Thrifty, Maggiore, Ecovia, Europcar, InterRent, Noleggiare, Autoclick, Global Rent a Car, Avant Car, Italy Car Rent, Flizzr, Sicily By Car, Firefly, Payless, Viten Group, Enterprise, CarMotion, Nomadcar. Compare long-term rental for one day, one year, a whole month, week, the number of days you wish or a weekend.
About Sicily, which is an island in the Sicily region, Italy and has about 5 046 100 inhabitants. Surrounding cities/towns are e.g. Palermo (c. 648300 pop), Catania (c. 290900 pop), Messina (c. 219900 pop), Reggio Calabria (c. 169100 pop), Syracuse (c. 97500 pop), Marsala (c. 77900 pop), Gela (c. 73900 pop) and Ragusa (c. 61400 pop) etc. There are more islands, such as Pantelleria Island, Stromboli, Lipari, Filicudi, Isola Salina, Panarea, Vulcano, Isola Marettimo and Isola di Levanzo, etc. Are you planning to take the ferry to other islands (Island Crossings)? Few car rental companies allow you to bring your rental car. Read more in the rental terms when booking. Use the search box to find the pick-up place you want. Are you looking for more things to do on your vacation? You will find more info under each city on the island. Isola di Sicilia, Sicilia, Sicile, Sizilien, Sicily are other names for this island. Minor villages, towns and suburbs that are close by are Montedoro, Santa Caterina Villarmosa, Marianopoli, Serradifalco and Caltanissetta.
Wondering about what there is to see and do on Sicily? Here are a few suggestions on activities, attractions, destinations, and experiences which are worth a visit during your holiday. Travelling with children? Do you want to visit an amusement park, water park or theme park? These are your options; Etnaland, Fantasy Park, Aquapark Conte Sommatino, Funny Island, Galileo Park, Moorea Park, Kartodromo Lascari, Parco Divertimeno Kids & Families and Scivolandia Cammarata. Get an overview of the whole of Sicily? Landscape from Piazza Crispi, Scala dei Turchi, Cappelletta di Santa Rosalia, Panoramic Viewpoint of Piazza S.Antonio, Panoramic Viewpoint of Terrace of Teatro Greco, Capo Grillo and Panoramic Viewpoint of Vulcanello are viewpoints located on the island. The highest mountains on Sicily are Pizzo Carbonara, Montalto, Rocca Busambra (cima), Rocca Busambra, Monte Turchio, Monte Gibilmesi and Montagna dei Cavalli. The highest peaks on Sicily are Punta Lucia, P.zi Deneri, Monte Frumento Supino, la Montagnola, Monte Frumento delle Concazze, Monte Cuccio and Pizzo Vuturo. Wine tour and tasting in Italy? Wineries and wine producers on or close to Sicily are, for example, Feudo Montoni, Azienda Vitivinicola PietraCava, Baglio del Cristo di Campobello, Feudi del Pisciotto, Grottarossa vini cantina, Tenuta Rampanti, Masseria Del Feudo, G. Milazzo, Deliella, Azienda Agricola Fiore and Feudo Principi di Butera. Gran Cratere, Stromboli and Mount Etna are active or inactive volcanoes located close to the region. Do you want to relax and find a beach for swimming and sunbathing? San Leone, Spiaggia Punta Grande, Spiaggia della Rocca di San Nicola, Playa Serenusa, Spiaggia di Marianello, Mandy Beach, Drasy, Spiaggia Marina di Palma, Lido Panama Beach, Lido Manfria and Spiaggia Porto Empedocle are located nearby. Do you want to spend a day on a golf course during your stay on the island? The golf courses, Verdura Resort, Il Picciolo Golf Club, Villa Airoldi Golf Club, Tauriana golf club, Le Saie Golf Club, I Monasteri Golf and Feudo Montalto Golf Club, are located close to or on the island. Grotta del (Cave) bue marino, Grotta Azzurra, Caverna della Capra Guasto, Grotta dei (Cave) Tre Livelli, Grotta Calafarina, Grotta di (Cave) Carburangeli, Grotta delle (Cave) Trabacche, Grotta Mangiapane and Cava Grande are fascinating caves you can visit when you visit Sicily.
Destinations on Sicily
Find the best car hire and cheapest car rental in airports nearby: Compare Rental Cars Palermo Airport, Compare Hire Cars Catania-Fontanarossa Airport, Hire Cars Reggio Calabria Airport, Trapani-Birgi Airport and Comiso Ragusa Airport. Here you can compare rental cars and vehicle rent from several companies in Sicily. Find the cheapest car rental & best car hire in nearby cities: Rent a Car Cheap Palermo, Cheapest Hire Cars Catania, Rental Cars Gela, Ragusa and Caltanissetta. We have an easy and safe booking system of rental cars online in Sicily. Rent a car on islands nearby: Cheap rental cars Lipari, Cheapest Car Hire Ortigia, Cheap car rental Pantelleria, Femmine and Lampedusa.
Car hire companies we compare on Sicily, Italy
To find the best all-inclusive price for a car on Sicily, autoitaly.co.uk compares, amongst others, the following companies National, Enterprise, Noleggiare, B-Rent, Sixt, Maggiore, Alamo, OS Car Rental, CarMotion, Centauro, Budget, Elba by Car, Hertz, Target Rent, InterRent, Key and Go, Flizzr, Goldcar, Dollar, Firefly, Viten Group, WinRent, Optimorent, Autoclick, King Rent, Europcar, Surprice, Rhodium, Italy Car Rent, Welcome Cars, Sicily By Car, Buchbinder, Payless, JoyRent, Locauto, Ace, Global, Avant Car, Green Motion, MoriniRent, Ecovia, Keddy By Europcar, Oscar, Smile Rent, Thrifty, Hertz Dream Collection, Autovia, Avis and Nomadcar.
Car Hire & Rent a Car Sicily Customer Feedback & Reviews