Brindisi is a small coastal city in the region of Apulia in southern Italy. It is the capital of the Brindisi Province, and this quaint little town is located on the coast of the Adriatic Sea. The city has always played an important role in Italian trade and culture, owing to its strategic position on the Italian peninsula. Brindisi is also a natural port on the Adriatic Sea, and even today, it remains a major trading hub with the Middle East and Greece.
The town of Brindisi has many beautiful and stunning beaches. The easiest way to explore Brindisi is to rent a car as it may be confusing for first-time tourists to navigate the public transport system. Having rental cars at hand will not only save your time but also make it possible to explore more places in Brindisi. There are several car rental companies in Brindisi, and it is a good idea to compare car rental prices. There are car rental companies like Green Motion, Surprice, Goldcar, Sixt, Payless, Budget, Firefly, Thrifty, InterRent, Alamo, National, Flizzr, Europcar, Enterprise, Dollar, Keddy By Europcar, Avis, Hertz etc. Getting a cheap car rental in Brindisi is very much possible, and you can choose from a wide variety of rental cars to get the model and make that you prefer.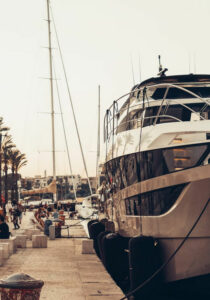 Once you have your car rental in place, here are the best beaches in Brindisi you must visit.
1. Torre Guaceto
The Torre Guaceto Beach in Brindisi is located in the area of Carovigno. The unique feature of this beach that sets it apart is that the sand here is of the highest quality. It is whitish golden, and fine-grained. Dunes surround the Torre Guaceto Beach coastline, and sometimes you will find dark cliffs rise up and then smoothly bled back into the sea bed. There are many natural treasures here, and you can find many rare amphibians, birds, centuries-old olives and green turtles, and many other marine life.
2. Costa Merlata
Costa Merlata Beach, sometimes also known as the Darcena Beach, is a sprawling strip of sand. The coastal waters here are not too deep, only a few meters.
The Costa Merlata Beach is surrounded by many juniper and pine bushes, lending a Mediterranean feel to the beach. You can rent a deck chair or umbrella here, and there is also a restaurant, bar, and ample parking to park your rental car here. In fact, for people with special needs, there are two ramps constructed that let you easily reach the sand.
Costa Merlata Beach is an animal-friendly beach, and you will find many dog breeders relaxing with their pets here.
3. Specchiolla Beach
Specciolla is a small resort town close to Brindisi. Spiaggia di Specchiolla is one of the most popular beaches here, stretching along the entire promenade of the nearby resort. This is a reasonably large beach covered with fine golden sand. At the extremities, you will find some rocks and stones, but the central part of the beach lets you enter the deep blue waters with ease. This beach is also preferred by tourists for its very shallow waters, making it perfect for young children. On the shore of Specchiolla Beach, you can find many recreational activities and sports to participate in.