Apulia, more commonly known as Puglia, is one of the best beach destinations in Italy. In the Apulia region, the famous Italian history, landscape, culture, food, and beaches, all come together to create magic. Puglia is located between the Ionian and the Adriatic Sea and has over 800 kilometres of pristine coastline. This makes it a treasure trove of stunning beaches and a favourite destination for beach lovers. There are intimate rocky coves, wild sandy shores, and stunning views to take in as you explore this seaside town.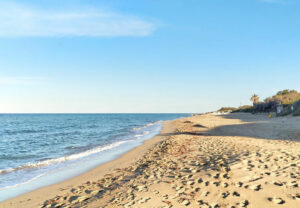 With so many beaches to explore, the best way to do this is to hire a car. There are many car hire companies in Apulia, including Avis, Europcar, Dollar, Thrifty, and many others. There are rental cars available here that fit every budget. From cheap car rental services to luxury hire cars, there is something for every tourist in Apulia. You can easily carry out a car hire comparison online to help you pick out a rental car that suits your budget and needs.
Now that you have a car hire with you, here are the top beaches of Apulia you must visit.
1. Pescoluse Beach, Leuca
The Pescoluse Beach draws its name from the small sandbanks that appear to be a collection of islands at sunset. This beach is often referred to as the Italian equivalent of Maldives. The glimmering Ionian waters and white sands have made it a favourite with the locals and tourists. The shallow waters of the beach make this the perfect family beach destination as even children can swim here to their heart's content.
2. The Tremiti Islands, Gargano
You can reach all three Tremiti Islands by boat from the mainland at Termoli to visit the beaches here. San Nicola and San Domino are the bigger islands here, thus there are more beach facilities here, including water sports like snorkelling and scuba diving. The coves and beaches at the Tremiti Islands are sandy, wild, and simply marvellous.
3. Torre Dell'Orso, Melendugno
The Torre Dell'Orso Beach is located in the Melendugno region of Apulia. While this is only a thin 1.5-kilometer long beach, but it is famous for the striking feature of the two sisters, or twin rock stacks that are standing side by side very close to the beach. The beach is surrounded by magnificent rock cliffs that are home to many fascinating caves and are said to be interconnected. There is also a dense pine forest nearby that adds to the dramatic landscape of the Torre Dell'Orso Beach.
4. Torre Guaceto, Brindisi
The Torre Guaceto Beach near Brindisi is part of a protected marine and nature reserve. The beach stretches for several kilometres and being a large beach, you can easily find a spot for yourself here. But what is so special about this beach? It is the vivid coral reefs and seagrass that have made the Torre Guaceto Beach a favourite snorkelling site. There is also a 16th-century tower and museum nearby that you can explore.
5. Dune di Campomarino Beach, Maruggio
For those who prefer to relax at secluded beaches, the Dune di Campomarino Beach is the best option. There are no beach bars or restaurants. Nor are there any umbrellas in sight. You will find only golden sand and crystal blue waters to enjoy in solitude here.