Located at the extended toe of Italy's boot, Calabria is a hidden gem in the crown of Italy. Calabria is home to a mixture of cultures, ranging from ancient Greece to France and Bourbon Spain. With a beautiful coastline, Calabria is a popular beach destination. The town has a rich history and many places of beauty. Calabria is an outstanding tourist destination with mesmerizing lakes, dense woodlands, and adventurous activities for all ages.
The best way to explore the town of Calabria is to rent a car. With so many car rental companies prevalent in the city, you will be spoilt for choosing which rental cars to pick. From cheap car rentals to luxury hire cars, there is something for everyone in Calabria. You can do a quick car hire comparison online to check out the different prices and special offers of the car hire companies to select a rental car within your budget. You can also compare car hire prices once you arrive in Calabria. Rent a car from companies osuch as Goldcar, Maggiore, Dollar, National, Thrifty, Optimorent, CarMotion, Avis, Flizzr, Avant Car, Payless, Enterprise, Nomadcar, WinRent, Autovia, Firefly, Green Motion, Locauto, Europcar, B-Rent, Buchbinder, Target Rent, Hertz Dream Collection, Elba by Car, Sixt, Centauro, Keddy By Europcar, Surprice, Autoclick, Hertz, Welcome Cars, Rhodium, Alamo, Oscar Rent A Car, Ecovia, Budget, MoriniRent and InterRent.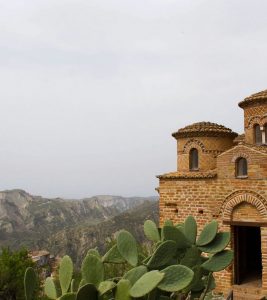 Here are the best things to do in Calabria when you go there for your next vacation.
1. Take a walk amongst the Raganello Nature Reserve
Raganello is a famous protected natural reserve in Calabria that is sprawled over 3953 acres. Sitting inside the Pollino National Park in the northern part of the city, the Raganello Nature Reserve is a must-visit. One of the unique spots to check out is the Raganello Canyon, where you can walk along the valleys, bridges, gorges, and flowing streams. You get to take in some beautiful views with multi-colored flora, fauna, and rocks decorating this gorgeous natural formation. The Pollio National Park is one of the three national parks in Calabria, and it stretches through 56 villages and towns.
2. Go Sailing
Sailing in Vibo Valentia when in Calabria is something everyone must indulge in. The extensive and beautiful coastline of Calabria and its pleasant climate make sailing here a breathtakingly beautiful experience. The best time to sail here is from April to October. There are 12 marinas located along both coasts of Calabria, and the Vibo Valentia is known as the best sailing port in Italy. Vibo has excellent facilities and berths for over 90 yachts, along with a docking area for all types and sizes of boats. It is also possible to rent a yacht and learn to sail with an instructor in Calabria. In fact, not just in Vibo, but you can avail of this facility on any Calabrian ports, including Cetraro, Reggio, Tropea, and Crotone.
3. Just relax and rejuvenate on the white sandy beach at Tropea
Tropea is the most famous beach resort in Calabria. The Tropea Beach is stunningly beautiful, and there is also a wide range of top restaurants near the beach where you can try out some delicious local cuisines. The Tropea Beach is located below a majestic cliff and an island sanctuary. This beach has been voted as one of the most beautiful beaches in Europe several times.